Thursday Night Football Proved to be a Showdown Between the Browns & Steelers
Myles Garrett faces Suspension for the remaineder of the 2019-20 season due to actions in Thursday nights game.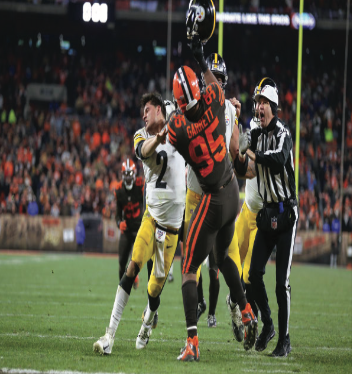 Jake Giotto '22, Sports Writer
November 21, 2019
The National Football Leagues (NFL) Thursday Night Football last week, Thursday, Nov. 14, was poised to be a showdown between two AFC North Divisional rivals. It was surely a showdown, but one resembling more of a WWE match. 
On the final play of the game Myles Garret, a 6'4", 270 pound Cleveland Browns Defensive End, tackled Steelers Quarterback Mason Rudolph in a meaningless play. The tackle escalated after the whistle and the two players began wrestling until they were separated by a couple of 
Steelers Offensive Linemen. Once they were separated, Rudolph seemed to have taken great offense to Garrett's unsportsmanlike play. In pursuit of Garret, Rudolph's helmet was ferociously off his head by Garret and then used as a club like weapon. Garret slammed Rudolph in the head with his own helmet, well after the whistle, to then be attacked by several Steelers players, defending their second-year Quarterback. 
Garret has been suspended by the NFL indefinitely for the remainder of the 2019-20 season. The third year defensive end out of Texas A&M, has struggled with staying out of trouble this season thus far. 
The former number one overall pick in the 2017 NFL Draft was hoping for a breakthrough year in the 2019-20 season, after making it to the pro-bowl last season. 
Surely, Garret did not have the season he was planning on. 
With only playing 10 games, he accumulated $50,000 in fines due to punching another player as well as two roughing the passer calls. 
Other players disciplined in the brawl on Thursday night included: Maurkice Pouncey (three games) and Larry Ogunjobi (one game). Mason Rudoplh did not receive any suspension but the NFL is still in the process of reviewing the incident which could lead to several fines bein given.