Men's Basketball Has Close Contest with Muhlenberg and Haverford
The Dickinson College Men's Basketball team fell to Muhlenberg and Haverford College.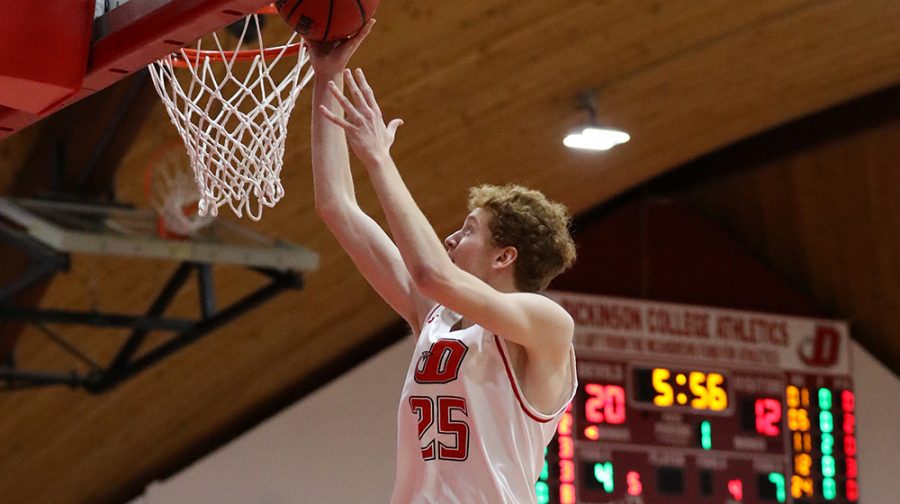 Shane Shuma '22, Sports Writer
February 6, 2020
The Dickinson College Red Devils hosted the Muhlenberg College Mules last Wednesday, Jan. 29. The game started with each team exchanging momentum, but the Devils were able to begin building a lead when Bryce Allen '20 made a 3-pt. shot to take an 11-7 lead.  
From that point on the Devils maintained a lead into the end of the half, with the score being 37-32 before the start of the second half in favor of Dickinson. 
Early in the second half the Mules were able to catch the Devils, but a 3-pt. shot by Ryan Devine '21 improved their momentum and the score to 50-48 after the Mules had taken the lead on their last score. Again, the Devils maintained a lead, but in the closing minutes the Mules were able to tie the game.  
Like the game last Saturday, Jan. 25, the Devils were headed to overtime with the score at 68-68. The Devils lost by one point in another devastating loss that dropped their record to 2-16 overall. KJ Holton '23 and Travis Dobbins '23 finished the game tied for scoring at 16 while Allen led the team in rebounds and assists with 6 and 7 respectively.  
The following Saturday, Feb. 1 the Devils took to the road to play at Haverford College. The first half was very rough for the Devils, with the team losing 50-28 at the end of the half. However, the Devils showed great resilience and looked like a completely different team in the second half.  
In the second half, Dickinson outscored Haverford 47-36, improving the final score to 86-75 in favor of Haverford. Allen had a particularly strong game, leading the team in scoring with 24 points and assists with 6. Onye Okoro '22 led the team in rebounds with 6.  
After the loss the Devils' record fell to 2-17 overall and 2-10 in the Centennial Conference. The Devils will host the Johns Hopkins University Blue Jays next Thursday. The men will hope to find continued success as they head into the final games of their season, showing their strength as a cohesive team on the court in every game.