Men's Squash Falls to George Washington on the Road, Tops Chatham at Home
The Dickinson College men's squash team had a long weekend of matches against George Washington and Chatham College.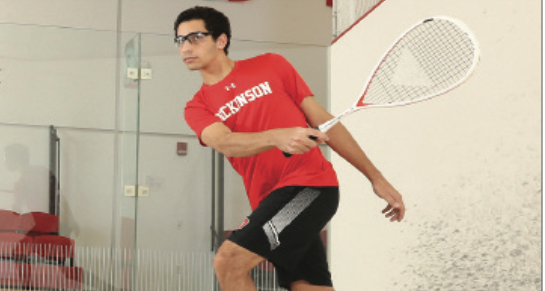 Sammi Werner '21 , Sports Editor
February 6, 2020
The Dickinson College men's squash team competed in a weekend of matches traveling to Washington D.C. on Saturday, Feb. 1 for a match against George Washington where they fell 0-9. They then hosted Chatham on Sunday, Feb. 2 where they found a 7-2 victory.  
The first set of matches against George Washington were fought until the final points by the Red Devils. Abdelrahman Elsergany '20 took the first set 11-4 and hoped to carry this momentum into the rest of the games to find 3 wins to secure the point. He unfortunately lost the second set and third set, but tied the fourth to bring it into the final set. He held closely to his competitor in the fifth but lost 8-11. Graham Henderson '20 also took it to the fourth set winning the second and putting pressure on his competitor. All of the Red Devils showed grave determination to try and defeat the #14 ranked George Washington University.  
The next day the men found success at home with 7 individuals winning their flights. The men claimed five straight matches in straight sets by Ben Gemma '22 who held his competitor to only scoring a total of 3 points across the 3 sets, Patrick Noonan '23 who allowed only 8, Tanay Murdia '21, Henderson and Hussien Eldesouky '23 won the next two. 
The men overall had a very strong day to bring their overall record to 5-10. We wish the men luck as they travel to compete in the MASC Championships this upcoming Friday, Feb. 7 – Sunday, Feb. 9, where they will compete their final time before Centennial Conference Championships which are set to take place at home the following weekend.