Student Athlete Spotlight: Tyler Lissy '25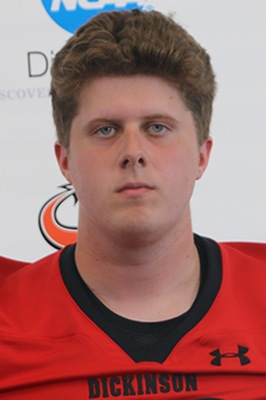 Height: 6'2" ft
Weight: 290 lbs
Position: Offensive line
Year: First-year
Hometown: Easton, PA
Accomplishments: PA football all academic team in high school
In high school, Tyler Lissy played for Notre Dame Green Pond, where he was on the Pennsylvania Football All Academic team. Lissy started for the Red Devils on the O-line in their tough 31-21 loss against Randolph Macon College. Despite playing tough competition and being a newcomer to the team, Lissy played every single offensive snap and didn't allow any sacks. 
Why did you choose Dickinson?
I made the decision to attend Dickinson because it was one of the few campuses I got to visit and I was impressed by the high level academics that a Dickinson experience would offer.
When did you realize you wanted to play college football?
By the time I started playing football in high school, I knew I wanted to play for as long as I could.
What is it like to be an underclassmen on the offensive line?
Being the young guy is quite challenging mentally, but learning a whole new playbook in this amount of time has been fun, to say the least.
What have you enjoyed the most about being part of the team?
I've really enjoyed the brotherhood aspect of the team that I've seen throughout camp and the season so far.