Dickinson Football Triumphs in Rivalry Game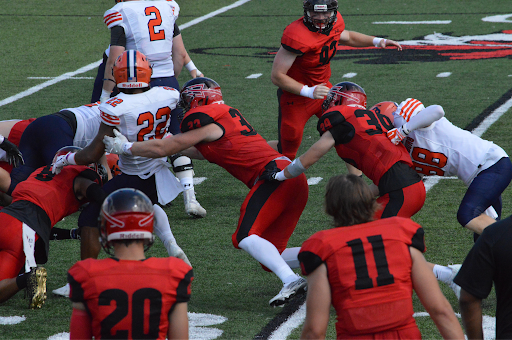 Dickinson football confidently handled their rival Gettysburg, 34-3, in the annual Battle for the Bucket.
Dickinson's players were clearly very animated and excited before the game. 
On the pregame feeling, offensive weapon Robert Geiss '22 said, "the atmosphere definitely played into it. Everyone coming into this game knew it was special. We knew that it was a rivalry game, that it was Homecoming. Parents were here, and even a lot of alums were here. There was a buzz throughout the whole team. All that stuff factored into it and we were absolutely hyped up for it." 
Running back Diante Ball '25 also shed light on the team's feeling going into the game, saying,  "we had a reason to play today. It was bigger than us, Coach told us all week. It was for the alumni and everyone coming back. We had to put on a show for them today, and we did that."
The players channeled their excitement into a strong start as Dickinson's running game, which had been missing from their offense, came alive. Dickinson's offense had been one dimensional in the first two games, as they primarily threw the ball. The Gettysburg defense expected a pass but, instead, the Dickinson offense ran the ball right through. Ball had a very strong rushing game. He was quick and explosive all game, finishing with 15 carries for 113 yards and a touchdown. 
Ball had this to say about the success of the running game, "I can't do anything without my line, so all credit to them. It definitely felt good to throw the ball and run the ball this week. If we do that consistently then we will be pretty dangerous."
Dickinson's running game is key to their having a balanced attack. It is clearly important to their success. Dickinson finished with a field goal on their initial drive. After a quick stop by the defense, Dickinson marched down the field again and got another field goal. Dickinson was totally in charge. They did struggle to finish their drives and get the ball in the end zone. But, following another stop, they were able to punch the ball in for a touchdown. The defense again left the Dickinson offense in good field position and that was all the offense needed. Quarterback Caleb Pruitt '22, in his first start of the season, connected with jack of all trades Robert Geiss '22 for a first down, then threw a beauty to Johnny Knight '23 for a 28 yard gain. The Red Devils were in the red zone again but, this time, Coach Brad Forcye had a trick up his sleeve to get the ball in the end zone. Fordyce put Geiss at the quarterback position. Geiss took the snap, faked a run, then easily threw the ball to a wide open Devlin McCool '23 for the touchdown. After the game, Geiss, describing the play, said, "as soon as (Coach Forcye) signaled it, I was excited because I had a chance to get a passing touchdown. It was also awesome to get a touchdown for Devlin McCool. He is out there blocking all game, dominating in the trenches. We got to get him a touchdown, which was awesome." 
Besides throwing for a touchdown, Geiss caught 6 passes for 63 yards and was a problem for the Gettysburg defense. Pruitt was very sharp. He really managed the game and looked in control under center throughout, throwing for 276 yards and 2 touchdowns, including a well thrown 39 yard touchdown pass to Bryce Peterson '23. 
The quick 13 points Dickinson put on the board in the first quarter was more than enough, with the Dickinson defense playing the way it did. The defense forced 3 interceptions and one fumble, while only allowing one field goal. They were utterly dominant all game, only allowing 26 yards on 27 carries. The defense was able to pressure the Gettysburg quarterback whenever they wanted, and really gave him fits all game. Combined with the constant pressure, Dickinson's defense sacked the QB four times. Alex Sulin '24 played a key part in the defense, with two takeaways including an end zone interception.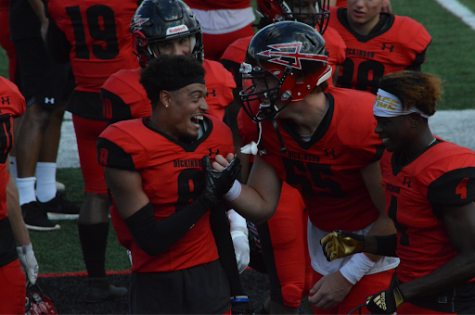 Sulin said, "It was really due to the rest of the defense. They set me up to make plays. The takeaways felt good, especially since it stopped their momentum and we were able to score on the following drives."
The team is very confident after this win. Ball said, "we can do whatever we want when we put our heads to it. When we go out there and execute, buy into it, play for each other, we can do whatever we want. I think it's going to be a new Dickinson Football from here on out."
Having gotten into the win column, Dickinson will try to keep their momentum going in a conference game at Susquehanna this Saturday.