Hockey Icon Ousted Following "Remembrance Day" Comments
Don Cherry was fired after many disrespectful remarks.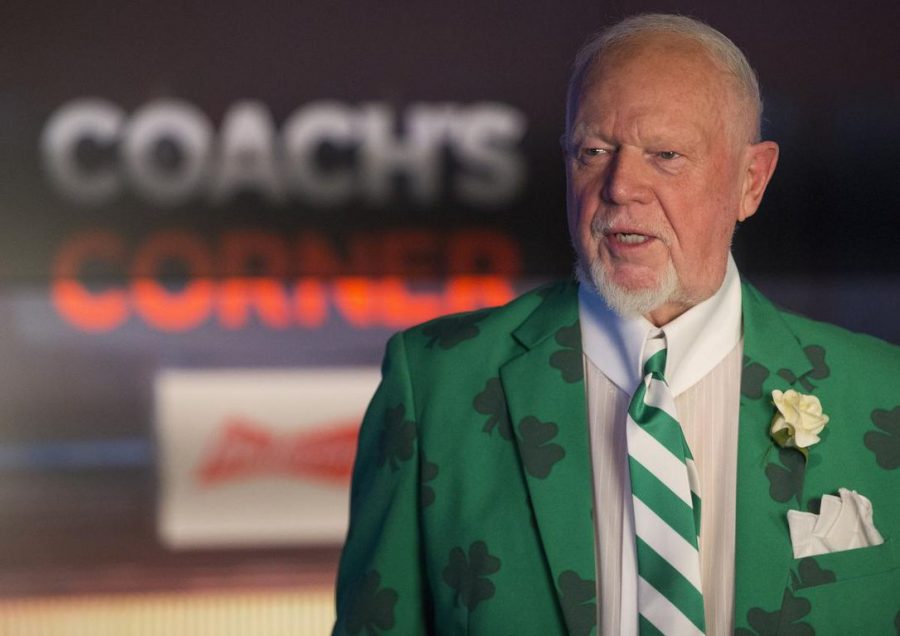 Drew Stern '22, Sports Writer
November 21, 2019
For die-hard hockey fans, Coach's Corner with Don Cherry will continue no more as Sportsnet fired the 85 year-old this past Monday, Nov. 18. The Canadian hockey legend was ousted following his remarks suggesting that Canadian immigrants' not wearing the traditional Remembrance Day "poppies," are disrespectful. Cherry has a long history of making controversial and often critical comments about European hockey players as well as certain political matters. This season marked Cherry's 39th in which he had co-hosted "Hockey Night in Canada," always wearing his famously flamboyant suits and emotionally telling hockey anecdotes. On live television with his long time co-host Ron Maclean Cherry said, "you people love our way of life…at least you could pay a couple bucks for poppies," immediately sparking a controversy within the hockey community and for much of Canada.
The National Hockey League, in which Don Cherry had been involved as a player, coach, and commentator for nearly seven decades, said his firing was a "justifiable response" to his comments. Although Cherry has a track record of making comments that may characterize as xenophobic, he insists his comments were not an attack on immigrants in particular. "I did not say minorities, nor did I say immigrants… I said you people," Cherry defended, in that everyone should wear a poppy in remembrance to Canadian soldiers. Numerous figures have called Cherry out as a divisive figure – labeling him a "racist," a "misogynist," and a "polarizing individual." Social media has intensified the diatribe against Cherry, with celebrities citing his remarks as yet another example of "poor leadership," as a Canadian Icon and suggesting that his attitude reflects that of the entire hockey community.
Don Cherry has visited war zones in Afghanistan, criticized Montreal Canadiens' fans for booing the American Anthem following the invasion of Iraq, and has emotionally told stories of Canadian soldiers playing hockey in war zones on live television. He was ranked the 7th Greatest Canadian in 2004 by CBC, in addition to being inducted Canada's Walk of Fame in 2016, and has been lauded for his "unwavering support of Canadians in uniform," by the Police Association of Ontario. Don Cherry has done more for veterans, and truly more for Canada, than arguably any other Canadian alive. While his comments of an 85-year-old man may come across as arrogant and exclusionary, Cherry comes from a different time and a different way of life in the spirit of the old-fashioned "tough guy" Canadian hockey. Cherry's dismissal sparked an intense cultural debate amongst Canadians and hockey fans throughout the world, forever casting a shadow over his legacy.