Bachelorette of the Week: Emily Snell '15
Melissa Canu '13, Life & Style Columnist
February 7, 2013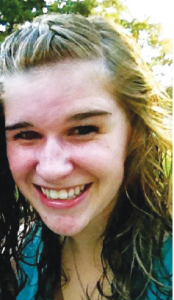 Are you looking for a spontaneous Red Devil to spend some time with this semester? If so, then keep your eyes out for Emily Snell'15. This twenty-year-old native of Cooperstown, NY is a Psychology and French double major on campus. Referred to as "Em" among friends, this bachelorette's favorite class at Dickinson was French 236 with Professor Laurent, as she really enjoys learning about the many cultural differences between France and America. If Emily could change one thing about the world, she would simplify the international traveling process, so as to encourage more Americans to travel outside of the United States. If you are an adventurous bachelor who is looking for a travel companion, consider introducing yourself to Emily.
After graduation, Emily plans to work in an International Admissions department of a college before eventually pursuing a career involving her psychology degree. This career path dovetails nicely with her current employment, as Emily is the International Recruitment Intern in the Admissions Office. She enjoys being able to Skype with prospective international students, and spends the most time in the office during the week. When she is not at work, Emily can be found lounging in an Adirondack chair on Morgan Field. This friendly Dickinsonian is a member of the Psychology Club, the French Club, the Global Gastronomy Group, DCF, Alpha Phi Omega fraternity and is a tour guide. So if you are ever curious about a specific aspect of Dickinson's history, be sure to check your facts with Emily.
As much as Emily loves Dickinson, she would love to jet off to Virton, Belgium for the weekend to visit her host families. If she was stranded on a deserted island, Emily would be content as long as she had a beagle, an endless amount of Swedish Fish and a giant bottle of sunscreen. This smiley bachelorette has been told that she resembles Ariel from "The Little Mermaid," as she loves to swim and plans to live in a house by the ocean. So if you are a bachelor who enjoys splashing around in the waves, Emily just may be the beach babe you've been looking for.
In her spare time, this outgoing bachelorette enjoys lazing around and watching "really crappy reality TV shows." Her favorite movie is "Win a Date with Tad Hamilton," and her favorite restaurants are Café Bruges in Carlisle and the Cooperstown Diner in her hometown. Her most meaningful memory on campus was when she began pledging APO, and when she was matched with her Big. Her most embarrassing moment was when she slipped on the steps of the Admissions Office on a day when it was not even raining or snowing.
Emily is looking for a bachelor who loves dogs and can make her laugh. She is looking for a caring, loving person who loves the ocean. If you are a bachelor who fits this description, then keep your eyes out for Emily Snell, because you just might be her dream man.