Letters from Abroad: The Happiest Place on Earth
Sara Moss '14, Abroad Columnist
February 7, 2013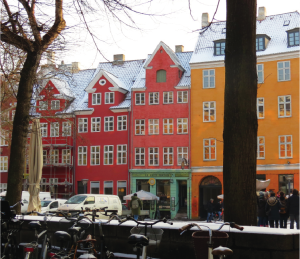 You may or may not know that Denmark, a country of 5.5 million people in the northern most part of Europe, continually scores as one of the "happiest countries" on earth (this year, it came second place). If you took a look at its climate, where on the day of my arrival there were fewer than seven hours of daylight and the weather was a blustery 23 degrees, you might easily wonder, Why? How is it that the Danes are so happy? And even many Danes have asked me: Why Denmark? "We're such a small country," they've mused. "And why would you want to come here… especially in January?!"
As a psychology major, I was looking for a study abroad program that was able to offer certain psych classes not available at Dickinson. At the Danish Institute for Study Abroad (DIS), I'm taking an applied psychotherapy class (a rarity anywhere in the US), a developmental psychopathology class, and a positive psychology class. I figure that there is probably no better place to study positive psych—the study of wellbeing—than the happiest country on earth! Aside from interesting classes, I wanted an experience that would introduce me to a new way of life and thinking about the world. Just prior to coming to Denmark, I was frustrated with the politics in the States; the world as I saw it was messy and stressful — so much anger, inequality, fighting and injustice. The more I learned about Denmark, the more I longed to find out for myself what makes the Danes so happy.
I made my decision: Denmark! And to ensure as genuine an experience as possible, I elected to live with a host family, rather than in a dorm. While I was very excited, I was nervous about several things: the weather, the lack of light, the established fact that many foreigners perceive the Danes as cold/blunt. For example, according to reliable sources, most Danes do not engage in "small talk;" as someone who loves chatting in line at the grocery store, I was worried I would miss social contact.
Within 20 minutes of my arrival, I realized that I had nothing to fear. Taking a seat at the Copenhagen Airport Hilton Hotel with some of the nearly 250 DIS students who would be living with host families, I let the reality of actually being in a totally new country begin to sink in. I watched as excited host-families scurried about, helping with luggage, giving hugs and presenting gifts to their new guests. Host parents were speaking with DIS staff, posing last-minute questions about ways to help their students settle in. Their young children were jumping up and down. I realized in that moment that I could do without small talk in line at the store (especially since I spoke not a word of Danish), and waited for my family to arrive.
It's been only about three weeks now, but I feel really, truly established in my new life. My Danish family could not have been more welcoming: my 13-year old brother (Kasper) and 12-year old sister (Mira) moved into a room together so that I could have my own space. They displayed a homemade welcome sign on my door and new decorative pillows on my bed, purchased by Mira and my host mom (Helle). My first afternoon, my host dad (Lars) opened the bread drawer to show me the white bread, which they promised to keep stocked so that I would always have something I liked to eat (at my arrival workshop it was explained that Danes apparently think Americans only eat white bread).
Of course, there have been some adjustments. Getting into a rhythm with a new family and adapting to unfamiliar routines and practices has taken getting used to. Interestingly, some of these adjustments are the direct result of being part of a society that values things that Americans often don't (i.e. sustainability and the environment, universal health care and higher education) – and they have thereby already given me a partial glimpse of why the Danes are, in fact, so happy.