Book Review:
Eleanor and Park by Rainbow Rowell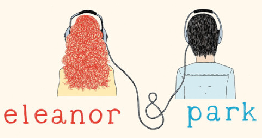 Having always been sentimental towards old '80s romances, I was rather excited to hear about Rainbow Rowell's debut novel Eleanor and Park. Cassettes, Park's father's Chevy Impala, the wonders of Van shoes, and the hair – to step back in time was absolutely thrilling. Reading this book felt like I was reading through a John Hughes' script – real, raw, funny, and, unfortunately, a bit heartbreaking.
The novel itself is split between the perspectives of Eleanor and Park; either giving them their own chapter or interweaving their perspectives back and forth in the same chapter. In both circumstances it is easy to really get to know, understand, and admire the realness and beautiful development of these characters throughout the novel. The two perspectives add freshness to the standard young adult romance novel – both sides of the story are given and expressed in brilliantly different ways. Romance blossoms from a shared love of music and comic books – all stemming from one fateful bus trip to school.
However, the book does not only focus on the romance, but on other underlying conflicts that help drive the plot. The greatest driving conflict lies with Eleanor, who deals with difficult family and life situations – from an abusive stepfather to very cruel bullying at school. Park, on the other hand, goes through a complete character shift, much of the change caused by the eccentrically dressed red head.
While I don't wish to spoil the ending for you all, I will admit that I was a bit disappointed. There is so much back and forth of will they or won't they, and when you finally think everything will be perfectly happy, the novel turns upside down in a very startling way. The last pages of the novel managed to leave me a tad bit distressed, especially due to the last line. I was left guessing and desperately wanting more, finding the novel as a whole to be slightly unfinished. I needed more of a resolution.
Nevertheless, Eleanor and Park is a lovely read – and if you're looking for a cute (but not gag-worthy), and more realistic kind of young romance, Eleanor and Park is certainly the book for you.