Take a Seat: Campus Gains New Chairs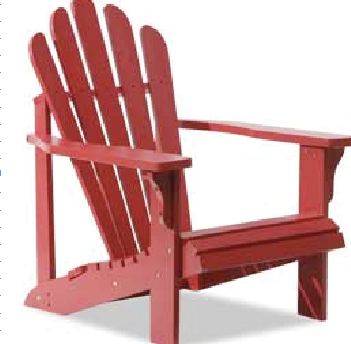 Dickinson students looking for a place to sit outside will get to enjoy more of the college's iconic red chairs soon.
Facilities Management Director Kenneth Shultes said that they would be adding at least two dozen new red Adirondack chairs this year.
According to Shultes, the chairs first came out about 14 years ago, when former Dickinson President William Durden '71 proposed it. There are currently approximately 45 chairs on the campus.
Special care has also been taken to make sure the new chairs are sustainable.
"The nice thing about the chairs that we're getting right now is they're actually a recycled solid plastic," said Shultes.
When asked if the chairs can be dragged anywhere, Shultes said that the idea of the chairs is for them to be picked up and moved anywhere the students want them to put. "[Durden] didn't want the chairs to be settled. He wanted them to move," said Shultes. In the past years though, the chairs had been disappearing, and some are found in student rooms now and then, said Shultes.
According to a letter from Durden in the 2010 issue of the yearbook, one even found its way to the lawn in front of the administration building at Franklin & Marshall College in Lancaster, and another spent the winter at Gettysburg College and appeared back on campus with an apologetic note.
"I think that Adirondack chairs – just the style – provides an immediate impression to someone," said Shultes. "A welcoming impression."