Straight from the Plate Caf Food Reviews
Hang on for a minute...we're trying to find some more stories you might like.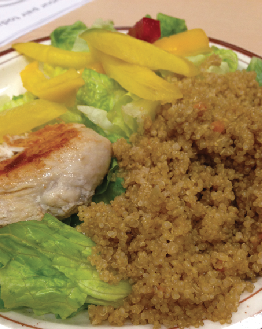 Dinner is my least favorite meal. I find that it's a struggle sometimes to find plain and simple food to eat in the cafeteria, but luckily they were serving grilled chicken on pita and lettuce. I opted out of getting the pita and decided to just get the iceberg lettuce with grilled chicken. The iceberg lettuce was a great change from the salad bar's lettuce. It had a nice crunch to every bite and wasn't as leafy as the usual lettuce that's served. A lot of people actually say that when they eat the lettuce at the salad bar they feel like a rabbit because it's very leafy and a lot of the lettuce resembles trees in a way. I didn't want to eat the salad plain though so I added some peppers from the salad bar. They were crisp and sweet and a great touch to the salad. Also, the grilled chicken wasn't bad. It didn't look too appetizing to be quite honest but it wasn't dry and had a lot of flavor. Despite the chicken being salty, all in all, it was pretty tasty. The best part of the meal though was definitely the quinoa. It's the healthiest grain and the seasoning was very flavorful. It definitely brought the whole meal together. Sometimes quinoa can be very bland but the flavor of this quinoa was very enjoyable.