Straight from the Plate Caf Food Reviews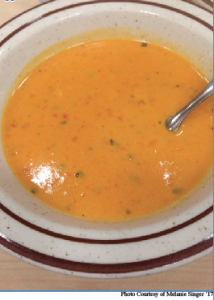 The polar vortex has made walking outside  a struggle, but when figuring out what to have for lunch, the obvious food selection is soup. I've come to realize that out of all the foods that the cafeteria makes, they seem to excel in making soups. They always have a lot of flavor in them and are never questionable.
This time my options for the soup section were a creamy roasted red pepper soup or a Mexican chicken and black bean soup. I decided to go with the roasted red pepper soup because a lot of my friends were raving about it. There's always that favorite soup that they serve in the cafeteria that people love and apparently this is one of them.
To my delight, the soup was very good. The only downside to the soups sometimes is that they are too salty, but this wasn't too salty or too creamy. There were bits of pepper in it to add some texture.
Thick soup on a brisk day can really make anything better. Although the soup was plain, the flavor of the different peppers and cream used made it interesting and delicious. I even went for seconds on the soup because I enjoyed it so much.