Straight from the Plate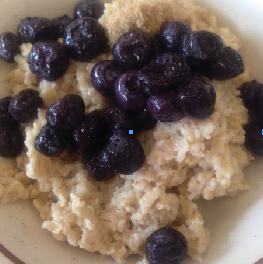 Breakfast is an essential meal of every person's day, especially college students. The caf has the typical and essential breakfast options such as cereal, yogurt and eggs, but for a while they were missing a very essential and simple breakfast option.

The caf used to serve grits a lot more often than oatmeal, so I decided to take action since I'm big on breakfast and write a napkin for the caf, asking them to serve oatmeal more often than grits. To my surprise, the caf responded immediately to the napkin I had written and started serving oatmeal every morning.

Located right next to the scrambled eggs, the caf has yet to fail any oatmeal lover in serving it. I'm not a fan of plain oatmeal, but luckily there's a plastic container of brown sugar right next to it, so I can put one spoonful of brown sugar on top of my oatmeal. I usually put blueberries on top, along with the brown sugar to add more flavor to it.

The one downside to the berries is that they're clearly not fresh so you have to drain some of the liquid that they're in. You can also add any fruit to your oatmeal, like bananas and apples. I usually just stick to blueberries because it's quick and easy, but the topping options can definitely be endless when it comes to oatmeal.