Fashion: Fabian Hernandez '15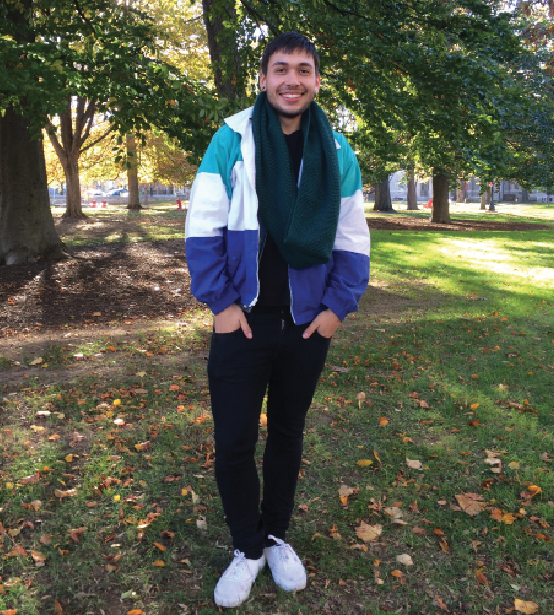 Meet Fabian Hernandez, a senior, American Studies major, Studio Art minor, from Inglewood, California. I sat down with Fabian to discuss another aspect of his artistic talents, his personal style. We chatted about cultural influences, traveling in Japan and defying normality.
How would you define your style?
I would define it as I wear whatever the —- I feel like wearing that day. I'm sorry for the curse word. (laughs) I love tumblr and I love looking at fashion trends, but it's never like "I'm going to copy that," or "I'm going to do this." It's like, "having the budget that I have, what can I do with that?" I really like retro things, like my mom's old jackets and stuff. Sometimes I'm super basic like skinny jeans, Vans… Vans are my thing, a hoodie or a sweater or sometimes I stitch stuff on it. Whatever, I don't know, there's no way to define it. It's like my mind, it's all over the place. It changes from day to day.
On dressing well and learning about fashion.
It's mad simple. It's knowing that you can do it too. People make a lot of excuses.
Does being from California affect the way you dress?
I don't know… like Vans, ever since I was a kid I had Vans. It's like that skater boy, chill vibe, shorts, long socks, black t-shirt. I think overall the West Coast did influence me. When I got here I was like oh —- jackets and winter coats, "What is this?"
Have your studies influenced the way you dress?
I take bits and pieces of everything I see and adapt it to me. There was a point in my college career where I was being very critical of how I dressed and what that was saying to the world and what I believed in. It was very conflicting. Fashion became a very cultural thing… I still have my West Coast, you could even say, Chicano, little greaser look and then I added a little bit of the top notch, hipster look.
Where do you find great clothes?
I get clothes from all over the place. I get some H&M stuff, Forever 21 stuff, I go to second hand stores, like Goodwill. One of my favorite jackets, the blue one with the white stripe, it's super retro, I got in Japan at a thrift store.
Did your study abroad experience influence your style?
A little bit. Most of the things I was buying were from Uniqlo. People wore skinny khaki pants and Vans, nice hoodies, and crazy ass hats. Their hairstyles were very innovative which forced me to cut my hair in strange ways just to try it out. Everywhere I go influences me a little bit.
Did you travel around Japan?
Yeah. During the summer we travelled a lot to Tokyo, Nagoya, Kobe, major cities across Japan. That was pretty dope. You got to see all kinds of people, people dressed in full blown anime costumes, to really exotic, showy clothing, to very conservative suit, business men.
What's your fashion motto?
Just be yourself. I want to defy normality… People call me out sometimes. They're like "What the —- is that," and I'm like "It's what I'm ——– wearing." I don't ever let anyone's comments phase me. I guess I'm always trying to be vocal, whether it's with my poetry, with my art, or my actual presence. I'm always trying to defy something. I think it's just in my nature to be that way.