To Binge or Not to Binge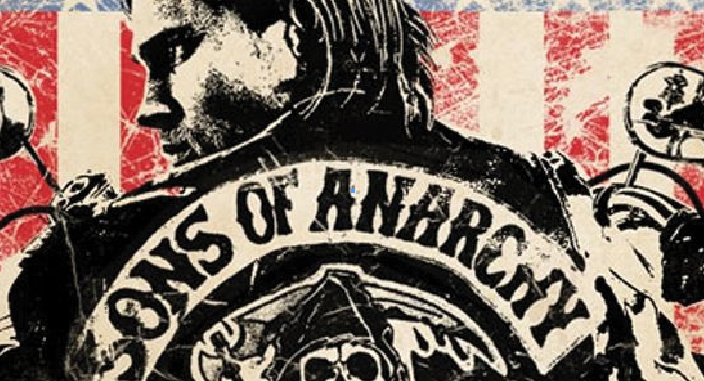 "Sons of Anarchy" takes itself VERY seriously. And in reality, it ends up being pretty goofy. But through all the overt masculinity masked by hundreds and hundreds of man-hugs, a show that should never be good turns out to be surprisingly entertaining television.
This show is difficult to stomach at some points, and for somebody just starting out watching, it is hard to take it seriously. The show is centered on the story of Jax Teller (Charlie Hunnam), young member of the Sons of Anarchy Motorcycle Club. Needless to say, the target audience (gun loving motorcycle club members) is delighted and connects greatly to these characters. Everyone else watching this show (99.9% of the audience) will take at least a season to actually understand the emotions and actions of these characters. But once you are inside the heads of these leather jacket-wearing vagabonds, the show becomes unsettlingly compelling. Nobody expects to be emotionally attached to a Jax, but as the show progresses and viewers see him slip and become exactly what he feared, the show becomes a tragedy akin to Shakespeare (The writer/creator of the show, Kurt Sutter, has alluded to the fact that the structure of the show is loosely based on Hamlet).
After becoming thoroughly attached to the motorcycle club members, their associated love interests, and the cops of the town of Charming, California (some nice irony there), the story takes off and captivates. You begin to realize how incredibly close these men are, how strong the bond is that is created, and the intense, morbid consequences of those who betray the club. As the president and vice president of the Sons of Anarchy attempt to navigate the complicated social situations involved in dealing with other groups and gangs, the consequences of every small action in the show begin to be massive. The show takes more twists and turns than a lot of shows on TV right now, and the creator is bold enough to basically do whatever he wants and provide some truly shocking moments. To keep the craziness grounded, the acting in the show is surprisingly good as well, led by veterans Ron Perlman and Katey Sagal.
Sons of Anarchy is a silly show. There is no getting around that. But if the silliness is not too much for you, the show has a lot going for it. The drama is akin to any good drama on TV, and while Sons of Anarchy is not among the greatest shows on TV right now, it is close behind them, and is definitely worth your time. Binge this if you need more leather vests in your life.
Grade: B