Go Greek: Sorority Recruitment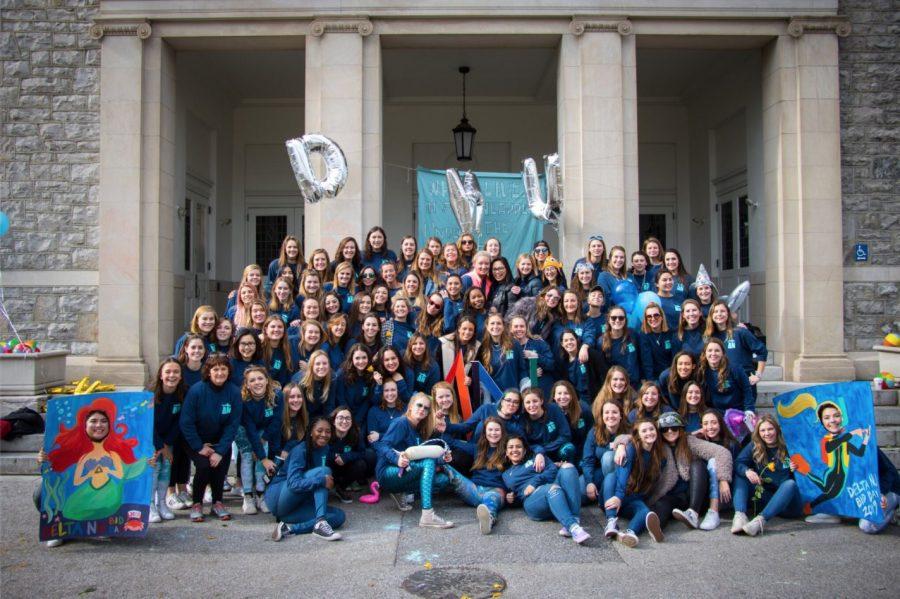 Melanie Singer '17, Life & Style Editor
February 2, 2017
The time of year arrived when all four sororities got together to participate in Dickinson College's recruitment process. It's an exciting time for women on campus who are already in a Greek organization and for those who are planning on being in one. The lead up to the week consisted of cover photos on Facebook being changed and girls in all different organizations wearing their Greek letters. Initially, 146 girls had signed up for spring recruitment and in the end 121 girls total finished through with the process that led into Bid Day. Participants going through recruitment ranged from first-years to sophomores, and even some juniors. A few years back though, recruitment was only held in the fall semester for sophomores and juniors. It wasn't until Spring semester in 2015 that recruitment was changed, allowing first-years to go through the process. Since then, it has been successful all around, allowing younger girls to experience Greek Life earlier on at Dickinson.
Each of the four sororities had fun and unique Bid Day themes that only furthered the excitement as recruitment came to an end. Kappa Kappa Gamma, one of Dickinson College chapters, was very pleased with their Bid Day outcome. The New Member Chair, Callie Miles '18 expressed her excitement, "I thought the whole process ran smoothly. It was tiring by the end from meeting all the girls every night but in the end, it all worked out. I think I can speak for everyone in Kappa and say that we got so many awesome girls and we're all so excited." Kappa's Bid Day theme was new kids on the block, or 90s theme, which they shared and celebrated with their 29 new members of Kappa Kappa Gamma.   
Pi Beta Phi also had an exciting recruitment process. Vice President of Membership, Isabel Lang '17 oversees all membership for Pi Beta Phi. Lang said, "we began planning for recruitment months in advance and I returned to campus ready to find our future sisters! The process overall ran smoothly for Pa Gamma- which of course ended in our most cherished Bid Day. This year our theme was Camp Pi Phi where we roasted marshmallows and hung out in some tents. Panhellenic council certainly supported us within the process. We are so happy to have 30 new members!"
Another chapter at Dickinson is Delta Nu sorority who also gained 30 new members through the recruitment process. DNU's president Sally Matlock '18 was ecstatic about how the process ended, "me along with other members in DNU enjoyed meeting all the potential new members and we're all even more excited about our 30 new girls! All in all I'm happy it's over because it was pretty tiring but all so worth it in the end. We also decided to have our Bid Day theme be under the sea, which turned out to be really cute!" 
Kappa Alpha Theta succeeded as well during the recruitment process. Brianna Horgan '18 held the position of Chief Recruitment Office after she spent last year shadowing their outgoing officer, Abbie Stasior '17. "I learned so much through that but it was a whole different experience executing a recruitment that I spent so much time and hard work on, it was definitely rewarding." In the end, Theta received a new member class of 32 girls and celebrated Bid Day with the theme of glitter.
With the works of Dickinson's Panhellenic council working well with all four sororities, the Spring Recruitment process went perfectly.