Caf Creations: The Cooke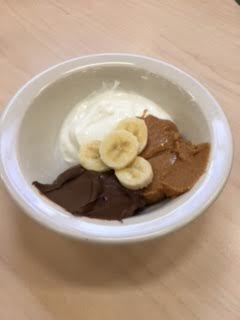 Hang on for a minute...we're trying to find some more stories you might like.
Sometimes you have to get creative in the caf to spice up your dining experience. A healthy dessert option that was introduced to me by one of my first roommates, Kearstyn Cooke (who has since transferred), is a mix of yogurt, peanut butter, and Nutella. This is a nice dessert because not only is it full of protein, it is also very filling. This dessert is also nice because you can really make it your own. You can use Greek or regular yogurt. You also have options as far natural or regular peanut butter. You have complete control over the proportions of Nutella to peanut butter. There are also options as to different fruits you can mix in, like bananas or apples at any point during the day. Also, if you make The Cooke in the morning, the caf should also have raspberries you could mix in. This delicious treat could be kept separate as depicted or it can be swirled together. Beware of becoming too overzealous with your swirling, however because the yogurt will turn brown and while it will still taste delicious it will look less appetizing.