Batter Up: Two Ingredient Banana Oatmeal Cookies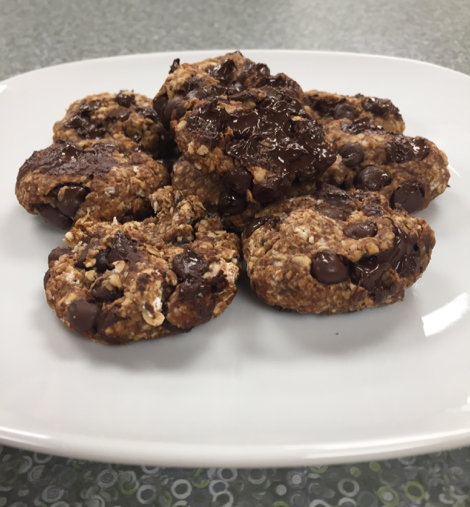 Hang on for a minute...we're trying to find some more stories you might like.
Ingredients:
1 cup quick oats
1 large overripe banana, mashed to a liquid-like consistency
Optional Ingredients:
2 tablespoons peanut butter or honey
1 teaspoon cinnamon
1/2 cup chocolate chips or other add-ins of your choice
Preparations:
Preheat the oven to 350 degrees Fahrenheit. Mash the banana in a bowl into a liquid-like consistency. Pour the oats into the bowl and mix together. If the mixture seems dry or if you enjoy the taste, feel free to add honey or peanut butter. Once the dough is sticking together, add in any mix-ins of your choosing. I added in dark chocolate chips, cinnamon, and the peanut butter. Once it's mixed, form pieces of the dough into mini patties of about two inches in diameter and place on a baking sheet lined with parchment paper. I used a cupcake pan because I thought that would ensure me that the cookies didn't fall apart, although I later saw that they would have been intact regardless. Place in the oven and bake for 15 minutes or until cookies are lightly brown. Allow cookies to cool and set before eating.
Recipe courtesy of Kirbie's Cravings.