Porcupine Visits with Dickinsonians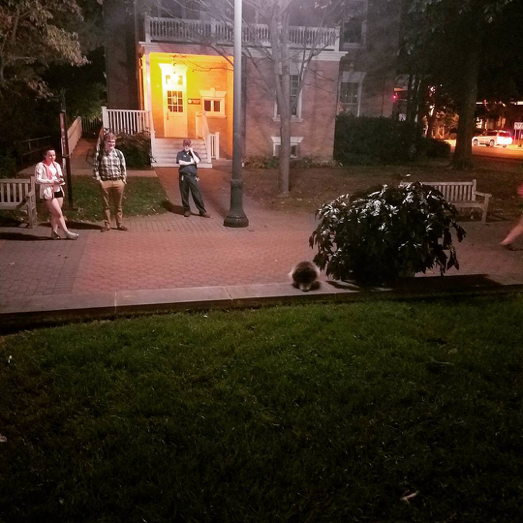 Hang on for a minute...we're trying to find some more stories you might like.
Students ogled, snapped pictures of and followed a porcupine around campus Wednesday, Oct. 4.
Upon hearing "Oh my God, there's a porcupine." Patrick Baber '19 jumped out of his bed around midnight and went outside with his roommates. There, they saw the animal on the sidewalk in front of their house. Barber and his friends followed the porcupine as it travelled from their townhouse on West Louther St. towards ATS. When it crossed the street, Baber and his roommates protected it from being struck by an oncoming car by waving their hands. They were careful to maintain a safe distance "so as to not spook it and scare it."
National Geographic Magazine writes that porcupines can inhabit parts of Central Pennsylvania. However, they are not very common in the region.
Prior to making its way to West Louther St., the porcupine was sighted on Britton plaza.
Aly Fosbury '21 said she was with some friends when she spotted the porcupine around 2 p.m. up in a tree on the hilly patch of land in the center of Britton plaza. She says that within approximately 20 minutes, there was a large crowd gathered, taking pictures and sharing the creature's image on social media. Fosbury says she left shorty after and returned to Britton Plaza around 8:30 p.m. to find the creature was still there with a small crowd of students. At this point, she says, the porcupine had descended from its perch and was meandering around the plaza.
Chief Michael Guido, of DPS, said, "An officer did respond [to the porcupine sightings] to find it in a tree. Students around the tree were instructed to leave it alone. Officers continued to check periodically to see if it was in distress, which it never seemed to be. At some point the porcupine made it down from the tree moving on without incident."
The animal soon ended up back in the tree. It was still on the plaza, just after 9 p.m. when Michael Sinclair '18 left the library. He says he went out of his way to see it because he was curious after he overheard a lot of people talking about it near the circulation desk in the library during his two hour shift there. When asked what it was doing, he replied, "It was just chilling in the tree."
Baber says he and his friends tracked the porcupine over social media after their encounter at midnight, noting that it had ended up around Rector on Thursday.
While many students were enthralled by the porcupine, others weren't so enthusiastic. Patrick Moore '20, who never seen a porcupine before, said he was not excited by it, although it was "an interesting" thing to see as he walked to the library.
The current location of the porcupine is unknown.