Let's Get Reel: Riverdale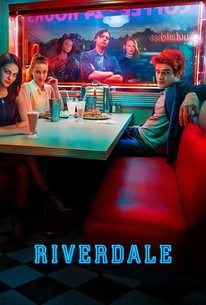 Lauren Toneatto '21, Life & Style Columnist
October 26, 2017
Hang on for a minute...we're trying to find some more stories you might like.
Milkshakes, mysteries, and murder are three words that describe the CW's Riverdale; however, they don't even come close to summing up the whole story.
Season 2 has just begun airing on Wednesday nights, but it's not too late to start watching. Riverdale revolves around the death, or rather murder, of Jason Blossom (Trevor Stines). Riverdale, already a small town, feels even smaller with a murderer on the loose.
Based on the Archie Comics, first popular in the 1940's, Riverdale follows some familiar faces. Yet, even with well known characters, the actors playing them are all fairly new to television screens, besides Cole Sprouse, previously known for his childhood work in Disney's The Suite Life of Zack and Cody, who plays fan-favorite, Jughead. With jet-black hair and bad-boy vibes, Jughead is only one-fourth of the sexy squad taking screens by storm. KJ Apa is stealing hearts with his flaming red hair and varsity jacket as heartthrob and protagonist, Archie Andrews. Betty Cooper (Lili Reinhart) is the girl next door, who has a secret dark side, and is first seen madly in love with her neighbor and childhood friend, Archie. Finally, Veronica Lodge (Camila Mendes) is the new girl in town. She's strutting down the streets of suburbia after leaving New York following a family scandal. With pearls and a designer bag for every occasion, as soon as she steps foot in Riverdale High she's ready to claim her throne as queen bee.
Despite only knowing each other for under a week, Betty and Veronica are already attached at the hip in Episode 1. It's this dynamic duo that really steals the show. From kissing to kicking ass, B and V personify spunk, sass, and style in everything they do. They bring some much needed girl power to Riverdale and to television.
It's also important to mention Cheryl Blossom (Madelaine Petsch). Remember that murder mentioned before? Oh yea, that was her brother. Not only that, but her family mansion holds more secrets than Riverdale ever expects. Head cheerleader, local bully, and honorary victim, the role Cheryl plays in the town of Riverdale is unmatched. She's the character you love to hate but also can't help but hate to love. Seeing Cheryl unfold throughout the series is one of many shining moments in Riverdale.
As for season 2, "an angel of death" is now wrecking havoc; it certainly wouldn't be Riverdale without a good murderer. It feels like forever since our favorite squad has sat in Pop's Diner without a care in the world. Relationships are stronger than ever but potential problems are looming in the distance. Will the Southside Serpents, the local biker gang whose sole purpose is to perpetuate drama, tear a beloved couple apart? Or will they beat the odds and rise above all the obstacles Riverdale puts in their way?
Tune into Riverdale every Wednesday night at 8/7c on the CW. To catch up, Netflix is also currently streaming season 1. As Jughead says, "Guilt. Innocence. Good. Evil. Life. Death," are just the beginning of what Riverdale has in store.