Let's Get Reel: Thor: Ragnarok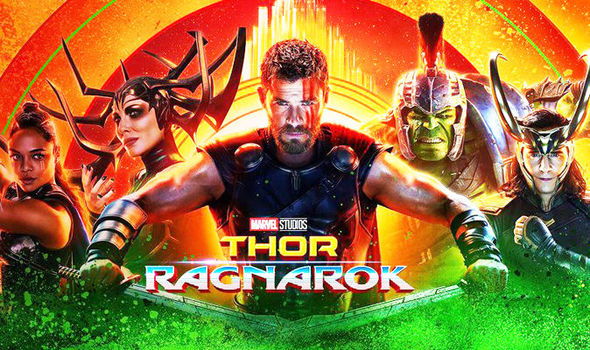 Lauren Toneatto '21, Life & Style Columnist
November 9, 2017
Hang on for a minute...we're trying to find some more stories you might like.
Thor is back, but he doesn't have his mighty hammer or luscious locks to defend him this time.
Thor: Ragnarok, hit theaters this weekend and left viewers and critics in awe, earning an astonishing 93% on Rotten Tomatoes. Following the death of his father and learning that his brother is actually alive, Thor (Chris Hemsworth) must now battle his sister, Hela (Cate Blanchett), and stop her release of Ragnarok which is set to destroy his home of Asgard. Talk about some family drama!
Humor, heroes, and the Hulk, Marvel's newest film has a lot to offer. Despite being imprisoned and dangling from chains, Thor is already cracking jokes in the first scene. These lighthearted moments are perfectly dispersed between action packed fight scenes adding just the right amount of comic relief. Most notable is Thor's reaction to losing his infamous long hair, and his response to being held captive on what only can be described as a Disney park ride straight from Hell. And let's not forget the rise of the "Revengers".
While Thor is stuck in a different universe than Asgard, Marvel's superhero universe comes to life. Once an ally in the Avengers, the Hulk (Mark Ruffalo) now acts as an obstacle Thor has to overcome in order to survive and save his people. Loki (Tom Hiddleston), Thor's step-brother, has also returned with his trickster ways following Thor (rightfully) presuming him dead after watching him perish in previous movies. If that wasn't enough, Dr. Strange (Benedict Cumberbatch) also aids Thor in his adventure for a brief yet witty scene.
In terms of new additions to the Marvel universe, Valkyrie (Tessa Thompson), a former warrior but forever badass, is a shining character in the film. She's one tough nut to crack but Thompson portrays her perfectly with spunk and attitude. Valkyrie definitely gives the god of thunder a run for his money. Hela also acts as the new threat for our heroes. With jet black hair that forms into what looks like a crown of black spider legs when she's ready to attack, Hela is definitely not one to be messed with. Within seconds she melts Thor's hammer, a large source of his strength, and kills an entire army of men without difficulty. Having a villainous Blanchett wearing a skin-tight body suit sounds like something only found in dreams, yet Marvel manages to make it a reality. The addition of two powerhouse women to an otherwise male dominated industry, definitely elevated Thor to a level all its own.
Superheroes are for more than just your average comic-book nerd.  Packed with action and comedy, Thor: Ragnarok is for anyone looking for an entertaining movie-going experience. It also doesn't hurt that Chris Hemsworth is easy on the eyes.