Let's Get Reel: Love, Simon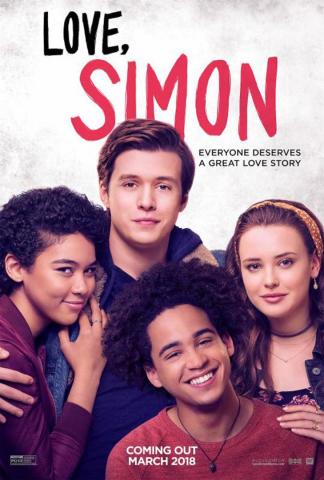 Lauren Toneatto '21, Life & Style Columnist
March 29, 2018
Who ever said a romantic comedy couldn't feature two boys falling love?
Love, Simon, based on the novel, Simon vs. the Homo Sapiens Agenda by Becky Albertalli, is your classic teenage romance: secret admirers, complicated family dynamics and late nights hanging out with friends. The only difference is rather than documenting a heterosexual romance, it focuses on two male love interests, a topic not heavily explored in past mainstream rom-coms.
"Creek Secrets" is an anonymous blog for students to post on. One night, after discovering a post by another closeted classmate, who goes by the alias "Blue," Simon Spiers (Nick Robinson) begins a string of emails revealing he too is gay, which quickly form into a budding relationship. Simon feels as if he's on cloud-nine after finding another boy in the same situation as him. However, he is soon brought back to reality after Martin (Logan Miller), one of Simon's classmates, begins blackmailing Simon after finding his emails to Blue on one of the library's public computers. This is, in part, due to the fact that Martin is in love with Simon's best friend Abby (Alexandra Shipp). Now, Simon has to figure out how to keep his love life a secret in fear that Blue will stop talking to him if their emails are revealed publicly.
Witty, heart-felt and all-around inspiring are just some words that could used to describe Love, Simon. Personally, I preferred Albertalli's novel over the film adaptation; nevertheless, seeing a story such as Simon's normalized on the big screen was nothing sort of fantastic. In the novel, Simon's thoughts, desires and frustrations stood at the forefront of the story. The butterflies you feel when receiving a text from your crush, composing and decomposing a draft of an email trying to make it perfect and the anxiety when Blue doesn't answer for days on end are all moments missing in the movie. While insignificant in the grand scheme of things, these emotions are ones that makes Simon loveable and genuine, far beyond the barriers of his sexuality. Love, Simon is a love story. No matter who it's between, it's a love story that anyone can stand behind.
With that, Nick Robinson portrayed a fantastic take on Simon. Charming, awkward and real, Robinson was able to make Simon nuanced in a world where all eyes were on him. He is able to take an experience many youths have to deal with, such as coming out to their families and make it feel real and relatable. Through tears, laughter and love, the audience cheers on Simon every step of the way and Robinson was the perfect actor to route for.
Overall, Love, Simon is not to be missed. It's an everyday love story that should be celebrated more often. It's a roller coaster of emotions contained in an hour and 50 minutes. Yet, if you're looking for a real adventure, I recommend reading Simon vs. the Homo Sapiens Agenda as it adds an element of intimacy that brings the whole plot together. I promise it won't take much longer to read: once you pick it up, you won't want to put it down.