Let's Get Reel: To All the Boys I've Loved Before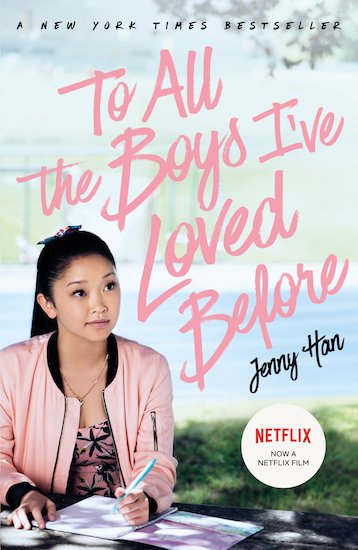 Lauren Toneatto '21, Life & Style Columnist
September 13, 2018
Hang on for a minute...we're trying to find some more stories you might like.
Peter Kavinsky. Sarcastic, star athlete and super handsome, what more could you want in a teenage heartthrob? While all the girls in school are chasing after Kavinsky (Noah Centineo), Lara Jean (Lana Condor) is the lucky girl that ends up with Peter. However, their relationship is all a lie in order to impress her real crush, Josh Sanderson (Israel Broussard), and make Peter's ex-girlfriend Genevieve (Emilija Baranac) jealous. 
But let's start from the beginning. How did Lara Jean originally find herself in a fake relationship with the cutest boy in school? Based on Jenny Han's 2014 novel of the same name, To All the Boys I've Loved Before tells the story of Lara Jean Covey. 
Being the hopeless romantic she is, Lara Jean wrote love letters to the five boys she's loved before, two of which include Josh and Peter. However, these love letters were never meant to be sent; therefore, when the letters unexpectedly fall into the hands of their rightful recipients, Lara Jean's world turns upside down. 
Three out of the five letters were written to harmless middle school crushes, but her letter to Josh stirs up drama that is the catalyst of Lara Jean and Peter's relationship. 
Lara Jean and Josh were best friends for many years before he began dating Margot (Janel Parrish), Lara Jean's sister and best friend. Throughout their friendship, and Josh's relationship with Margot, Lara Jean suppresses her serious feelings for Josh. After Margot and Josh breakup in the beginning of the movie, Josh also reveals that his first real crush was actually on Lara Jean. 
When Lara Jean discovers that Josh has received her overly-emotional love letter, that's where Peter Kavinsky comes in. When Josh tries to confront her about the letter, Lara Jean panics and says she's in a relationship. For extra emphasis, she kisses Peter right in front of Josh and most of her P.E. class. From there, the movie follows the fake relationship of Lara Jean and Peter and the consequences—both good and bad—that come from it. 
To All the Boys I've Loved Before is everything a rom-com should be. Lara Jean is a quirky, relatable protagonist that any hopeless romantic could relate to. Peter Kavinsky is a sweetheart and the perfect love interest for shy Lara Jean. The movie also focuses on the incredible bond that siblings share. In fact, beyond instantly falling in love with both Lara Jean and Peter, it's really the Covey sisters who steal the show. The dynamic between the three sisters is realistic and pure, full of ruthless jokes and unconditional love. While Margot is the oldest and most mature of the Covey sisters, the youngest Covey, Kitty (Anna Cathcart), is full of spunk and snarky comments, adding a level of comedy no good rom-com would be complete without. 
In addition to being an amazing romantic-comedy plot wise alone, To All the Boys I've Loved Before has made waves with its cast. Lara Jean Covey, a half-Korean, half-Caucasian high school junior, is the heart and soul of this film. Author Jenny Han fought for accurate representation of the Covey family, which was reflected through Lana Condor, Janel Parrish and Anna Cathcart. Han received proposals planning to cast white actresses as the Covey's, but Han waited until ultimately, Awesomeness TV produced the film because it was the only company willing to keep the ethnicity of its protagonist. 
To All the Boys I've Loved Before will put a smile on your face. Who doesn't love watching two people fall in love (even if the relationship is technically fake, that's just one of the factors that keeps this movie on your toes)? With equal parts romance and comedy and an added dose of adorable from Lara Jean, To All the Boys I've Loved Before is worth dropping all responsibilities and watching immediately.