Professor Spotlight: Helene Lee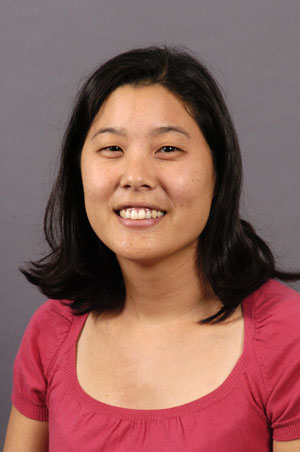 An animal lover raised in Los Angeles born to Korean immigrants, Assistant Professor of Sociology Helene Lee wasn't majoring in sociology when she attended Cornell University as an undergraduate student. Initially, she entered university with plans to become a veterinarian, but she ended up with a degree in psychology, with a focus on developmental psychology. "After I was 'weeded out' of the natural science classes, I realized I was a better fit for social sciences," said Lee.
Before arriving at Dickinson as a visiting Assistant Professor of Sociology in 2008, under a diversity program to get more faculty of color on campus, Lee was at University of California, Santa Barbara doing her graduate studies in sociology. 
She also worked for Teach For America, based in Louisiana, during her time after college and before joining graduate school. This eventually lead to her joining Dickinson for her Ph.D. and now, as an Associate Professor of Sociology.
"Sociology was like a happy accident, I wasn't sure I would go into a counseling psychology program and after Teach For America I developed an interest in learning about race and inequality," said Lee.
When asked about teaching at Dickinson, Lee said, "The great part about teaching, especially at a small liberal arts college like Dickinson, is that over the semester you get to know your students. That intimate setting wasn't really a big part at my university; my introductory to psychology class had 2000 students…in a class of thirty students, it really keeps you grounded." 
Lee regularly teaches introductory sociology classes in the fall, in addition to sociology electives and seminars that are focused on Asian American communities, immigration, race and ethnicity during both semesters. She also teaches a class on qualitative methods. 
Lee enjoys getting the opportunity to teach classes that were not offered to her during her experience as a student. "My favorite class would probably be the one on Asian American communities because as an undergraduate or graduate student, I never realized how scarcely represented we were in the curriculum. It is important for students to see themselves in faculty positions, but then also to see themselves as a real topic for critical inquiry, rather than invisible for when we talk about race. And for some reason, that particular class tends to have more Asians and Asian Americans, which is a nice feeling, both professionally and personally," Lee said.
As a mother of one, Lee is often busy taking care of her two-year-old, but she also enjoys running, playing tennis and watching movies in her free time. Besides her plans to finish a marathon in the next year or two, Lee serves on the governor's commission on Asian American affairs.  Lee adds, "I get to think more critically about API (Asian Pacific Islander) communities across the commonwealth rather than just in Carlisle or Dickinson."
When asked about rewarding aspects of teaching, Lee focused on the relationships that are maintained after students graduate. 
"Sometimes you don't know if you're really making a difference…but when I hear back from students a year or maybe five years after they've graduated and they say how a topic came up and they really thought about [my] class, I feel like that's the most rewarding part about being an educator," she said.