Listen Up: Marcus "Spoon" Witherspoon '20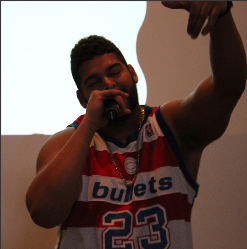 Christian Foley '20, Guest Columnist
November 1, 2018
Hang on for a minute...we're trying to find some more stories you might like.
With football season coming to a close, offensive lineman Marcus Witherspoon '20 will turn his attention to his favorite activity off of the gridiron: rapping and creating his own music.
In fact, Witherspoon, who goes by the performing name Spoon, plans to release his fourth mixtape, titled Jr Yr, within the next two weeks. 
Witherspoon began rapping in the summer of 2017 as a hobby. "I'm not with the whole new style [of rappers]…. I wondered if I could do any better." 
After taking a break due to a concussion, he began to rap again in February 2018 with a more serious attitude. Writing whenever he has free time, whether it be at work or on the bus ride to an away football game, he loves to work on new lyrics or beats.
Witherspoon is an international business and management major with an economics minor. Though rapping has given him more name recognition across campus, his real love is football. 
After graduating, he hopes to work for NFL International, which helps scout and develop international football players before they come to the United States. Rap will always be important to Witherspoon, but he plans to leave his music career behind, unless he is able to make an income from it.
With three mixtapes out so far, MCK25, What's Next and Arthur Miller, Witherspoon's fourth project Jr Yr will consist of five or six songs. Following personal problems that he dealt with this past year, Witherspoon promises high tempo tracks that will highlight his growth as an artist and his recovery from "rock-bottom." This mixtape will be an inside look at the life of the rapper and his outlook on societal problems.
So far, Witherspoon has performed three times on campus. The first time was last spring when he performed at the Black Arts Festival in the Stern Great Room. "I've never felt that kind of energy before," Witherspoon said. Following that performance, he placed third in the Best of Dickinson competition and went on to rap during the intermission of the schools A capella concert.
Witherspoon wanted to open for Aminé and Topaz Jones at this year's fall concert, but the headliner declined to have a student performer. With the release of this new mixtape, which Witherspoon will send to their booking agent, he hopes that he may convince them otherwise. 
On Nov. 25 in Connecticut, he will be competing against other artists at RSVP Studios for the chance to win $50,000 and a national tour. He hopes that events like these will give his music more exposure. 
While he does produce his own beats, he has received help from friend Brendan Paige '20, from Williamstown, N.J. and Harry Adams '18, from Kents Hill, Maine, who both produced multiple beats on Witherspoon's first mixtape, MCK25. 
As of now, Paige has helped on the production of one song called "Sweatshirt" on the upcoming mixtape and Witherspoon hopes he will become more involved in future work.
Typically, Witherspoon will spend about a week writing and tweaking different beats until they are perfect. "I don't force lyrics or flows… if I'm not in the right mindset," he said. However, when he is in a flow, lyrics and beats can be perfected in only a couple of hours. "I won't put down the pen until it's done," Witherspoon added. He records in the media center located in the basement of Bosler Hall and uses their "podcast nooks" that, in his eyes, give a crisp and clear sound.
Witherspoon plans on going abroad this spring, which may make him unable to record any new songs during this time. However, he plans to finish another mixtape this winter so that he can release it during spring break, leaving him time to focus on writing while abroad.