Let's Get Reel: Elite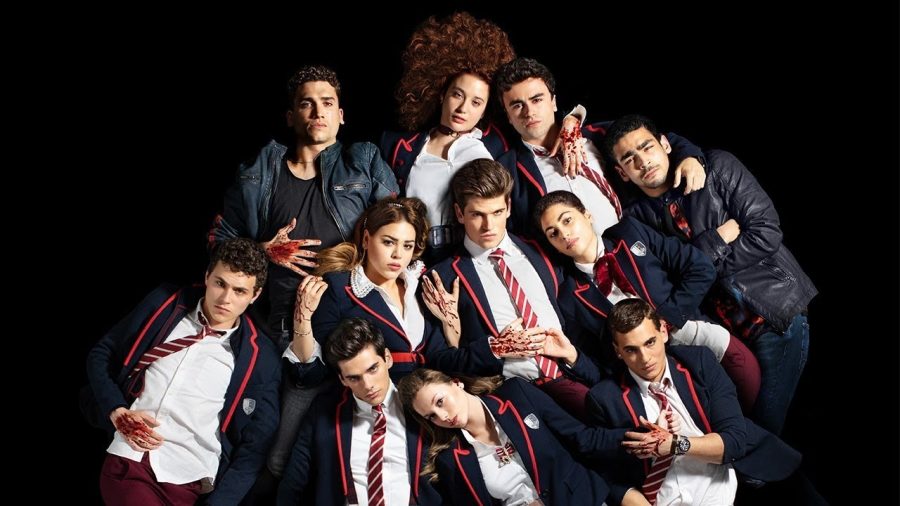 Lauren Toneatto '21, Social Media Editor
November 29, 2018
High school, a murder mystery and love triangles are key ingredients to any teen drama and Elite, Netflix's newest Spanish series, is no exception to this expected formula. However, unlike Riverdale, which embraced these tropes and created a recipe for disaster, or Pretty Little Liars, which had too many seasons for its own good, Elite is successful in crafting an entertaining and jaw dropping new series playing on these common tropes.
Even though the show is originally in Spanish, all of the voices are dubbed over in English, so there is no need to feverishly read through subtitles or attempt to use your high school AP Spanish skills to keep up.
The drama begins when three lower income teenagers join a high-class private institution after an accident lead to the destruction of their old school. Elite keeps viewers on the edge of their seats as individual plotlines develop before ultimately intertwining in unanticipated ways. With a large cast there are a variety of individual plots that overlap. On top of that, since this is a teen drama, hold on tight for an intricate and over-the-top plot summary.
Firstly, Samuel (Itzan Escamilla), Nadia (Mina El Hammani) and Christian (Miguel Herran) are connected due to their status as scholarship students and outcasts. Beyond this, imitation frat boy Christian could not be further from studious and overachieving Nadia. Samuel quickly becomes infatuated with Marina (Maria Pedraza), the only rich student to show kindness to the three newbies. However, their budding relationship is anything but smooth sailing with the addition of Samuel's brother Nano (Jaime Lorente), who is fresh out of jail and already engaging in dangerous activities again. 
Additionally, Marina's bully brother, Guzman (Miguel Bernardeau), begins to change his bad-boy ways in order to be with the conservative, Muslim Nadia. However, Lu (Danna Paola), Guzman's on-again off-again girlfriend, queen bee and predicted valedictorian will do everything she can, or anything money can buy, to make sure Nadia suffers. 
Nadia's religion does not only stand in the way of her relationship with Guzman, it also affects her brother, Omar (Omar Ayuso). With incredibly strict parents, Omar's homosexuality and secret job as a drug dealer are anything but what is expected from their Muslim son. Thus, he has to keep his relationship with Anders (Aron Piper) a secret if he wants to stay in his parent's good graces. 
If that was not enough going on, perhaps the most interesting storyline is between Polo (Alvaro Rico), Carla (Ester Exposito) and Christian. Daughter of Spanish royalty and son of two highly regarded mothers, Carla and Polo have been dating since they were twelve and slated for marriage since childhood. However, Christian adds unexpected spice to a relationship that was starting to get old. Seeing their dynamics unfold and fit into the greater plot of Elite is one to particularly look out for. 
Without a doubt I would definitely recommend Elite. With only eight episodes, I finished the season in three days. I simple could not stop watching this Netflix series. It is filled with unexpected twists and turns and every episode had secrets unfolding and new revelations emerging. As well, with simultaneous plotlines occurring, there is sure to be a story for every viewer to become invested in. Do yourself a favor and start watching Elite as soon as you can.