Red Devil of the Week: Mary R. Curran Morgan '88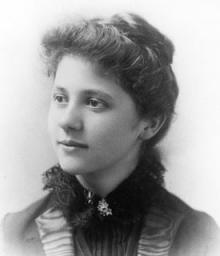 The first student honored for Women's History Month is Mary R. Curran Morgan '88, from Williamsport, Pa. Curran Morgan played a significant role in the experiences of women in and outside of the Dickinson community. 
She matriculated at Dickinson her junior year in 1886 and in her second semester received the Pierson Gold Medal for Oratory. Curran Morgan was a also member of Phi Beta Kappa, a prestigious honors society only open to a select group of students across the country. She helped form the Carlisle Branch of the American Association of University Women, and eventually became its first president. 
Additionally, she worked to establish the YWCA of Carlisle, and became a member of its first board. Curran Morgan graduated in 1888 as salutatorian of her class and later received her M.A from Dickinson in 1891. All of this information was collected from the Dickinson College Archives.