Caf Review: Lobster and Shrimp Bisque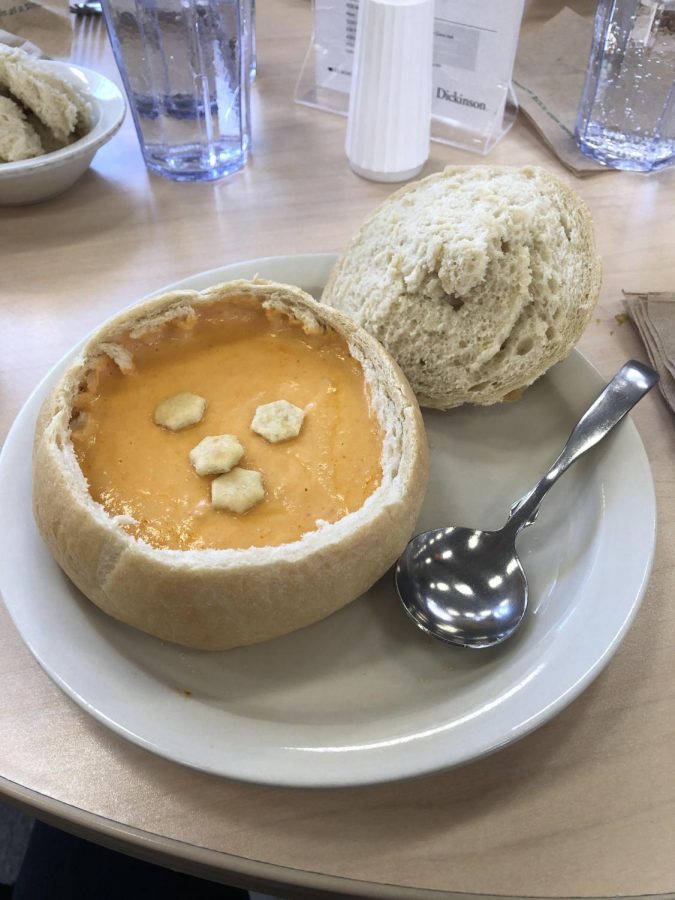 Lauren Toneatto '21, Social Media Editor
March 21, 2019
If I had to name my favorite Caf dish, hands down, my answer would be the lobster and shrimp bisque. I first encountered this delicacy last year when the Caf offered soup and bread bowl day. I have been thinking about this bisque ever since. Unfortunately, it seems this soup is offered only once a year. Nevertheless, it was worth waiting 365 days to eat again. 
The Caf's soup and bread bowl day has a lot of superb options to choose from. Yet, without second consideration, or reading the other choices for that matter, I grabbed a bread bowl and poured my lobster and shrimp bisque to the brim. 
In order to make the most of this meal, I suggest using your spoon to carve out your bread bowl.  It is already precut for your convenience; however, there's certainly some more room in the bowl if you choose to dig a little deeper. I strongly recommend taking the time to complete this step as it give you more room to add the soup, the true star of this dish. It's relatively easy and quick to scoop out the inside of the bread bowl. 
Also, when I entered the Caf there was not a line, so I did not feel pressured to have to speed through the process. Another added bonus to this technique is getting to dip your extra bread into the soup. Taking a bite of fluffy bread soaked in the creamy soup is my favorite way to enjoy this meal. 
After leaving the bread bowl line I headed over to the salad bar and added some oyster crackers to top off this dish. This added a nice crunch to the smooth bisque. The bisque's taste was delectable. The seafood taste was subtle but effective, making me savor every bite while wanting to go back for more. 
This soup and bread bowl pairing was definitely enough to be considered a full meal. This was the only item I ate during lunch and felt full by the end. Eating the remaining bread bowl after finishing the soup truly made the dish. I enjoyed savoring the lobster taste in my mouth; I'm glad I didn't taint the taste with another dish afterwards. 
Overall, this year's lobster and shrimp bisque was just as excellent as I remember. I will be counting down the days until it is offered again. If only it became a regular Caf menu item, I'll personally take the lobster and shrimp bisque over chicken with spicy corn soup any day.