Batter Up: Banana Bread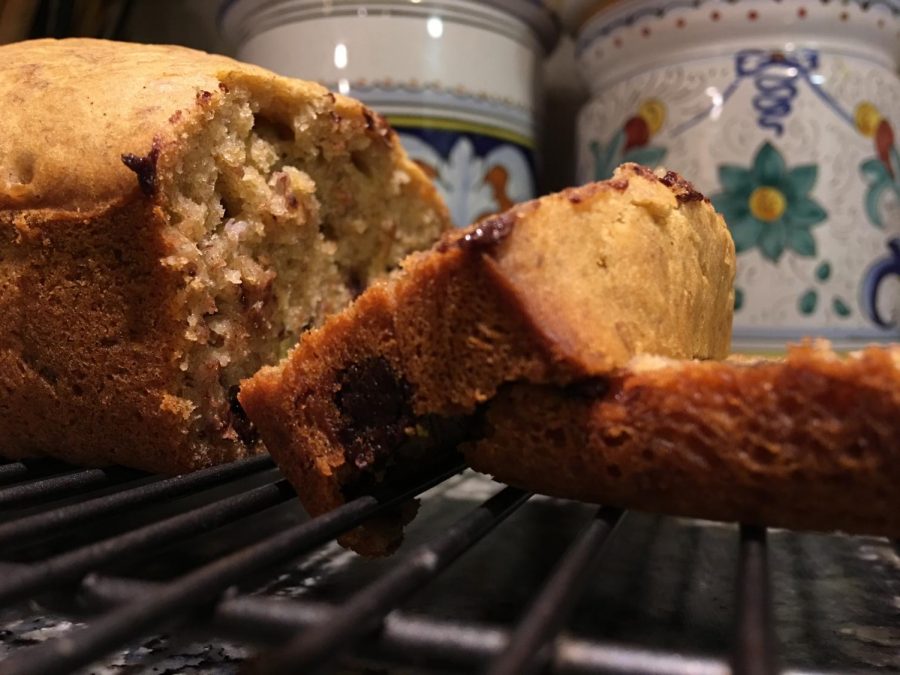 Rebecca Agababian '21, News Editor
April 11, 2019
Banana bread is one of the first things I make whenever I get home. This is my favorite recipe because it doesn't have any refined sugar in it which makes it healthier than the average banana bread without losing its flavor.
Ingredients:
• 2 eggs
• 1/2 cup melted coconut oil or olive oil
• 1/3 cup honey or maple syrup
• 1/4 cup milk or Greek yogurt
• 1 teaspoon vanilla extract
• 1 cup mashed ripe bananas about 2-3 medium bananas
• 1 3/4 cups white whole wheat flour or regular whole wheat flour or plain all-purpose flour 
• 1/2 teaspoon ground cinnamon optional
• 1 teaspoon baking soda
• 1/2 teaspoon salt
•1/2 cup dark chocolate chips (not optional) or chopped walnuts, raisins (optional)
Directions:
1. Grease a 9×5 inch loaf pan and preheat your oven to 325 degrees.
2. Whisk the flour, cinnamon, baking soda and salt in a medium bowl. I usually only have all-purpose flour on hand and it still works well with the recipe.
3. Beat the eggs, oil, honey, milk and vanilla in a large bowl for 2 minutes.
4. Stir in the flour mixture, bananas, chocolate chips and any other add-ins of your choice.
5. Pour the batter into the greased pan and sprinkle additional cinnamon, raw sugar, or chocolate chips on top.
6. Bake for 50-55 minutes or until a toothpick or knife come out clean when inserted into the middle of the loaf.
7. Cool for 10 minutes and enjoy! I love to top my banana bread with peanut butter and cinnamon.
This recipe is courtesy of Gimme Delicious.