Album Review: Lover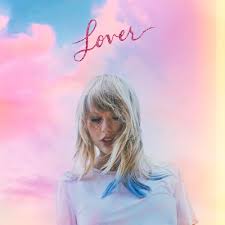 Jacob DeCarli '22, Manging Editor
September 19, 2019
Hang on for a minute...we're trying to find some more stories you might like.
Taylor swift breaks out a new type of lyrical composition with her latest album release, Lover, which debuted on Aug. 23 at no. 1 on the Billboard top 200 Albums Chart. The album, which features a whopping 18 tracks, gained quick momentum from fans across the world through album sales and online streams. According to Billboard, this is Swift's sixth no.1 album.  
Lover succeeds Swift's 2017 album, reputation, which drew in mass critical success and a no.1 song, "Look What You Made Me Do." Reputation propelled Swift from her typical heartbroken self into a fierce and independent woman who embraced criticisms from audiences. Every song on Reputation told a different story than her previous albums, and I enjoyed her new "edgy" style. Also, her Reputation tour was named one of the highest grossing tours of 2018, and it was quite a magical experience.  
When Swift announced her plans for an upcoming album to be released in 2019, I was excited for what content she would create. However, my excitement was slowly derailed in the spring of 2019. Swift released her leading single, "ME" which features Panic! at the Disco's lead singer Brendon Urie. The song was much anticipated by fans as this would be Swift's first release in almost two years, and Swift announced a music video that would accompany the song's release. However, the music video and song disappointed me; the lyrics were shallow and cheesy, and the music video had weird-childish aesthetics. Most importantly, Swift seemed to lose her successful brand of her Reputation era and instead reverted to her earlier eras of basic pop anthems.  
During the summer of 2019, "ME" dominated American radios (with a Billboard peak position at no. 2), and Swift teased more elements of her upcoming album. She released her second single, "You Need To Calm Down", an anthem about LGBTQ rights and equality with a pretty fabulous music video (although audiences had mixed reactions to Swift's portrayal of messages regarding LGBTQ equality and her overall advocacy). "You Need to Calm Down" climbed to No. 2 on the Billboard chart and dominated the Spotify top 100 chart. By the end of July, Swift had two popular songs on the radio and a teased album cover with an accompanied colorful and lighthearted brand.  
On Aug. 23, Swift released Lover to audiences across the world and included a visual album on Spotify. I was skeptical of listening to the album, but as a fan I had to check it out. Quickly, my disappointment from her released singles faded away as I listened to the other songs on the album. Her second song off the album, "Cruel Summer" immediately drew me with her sounds and lyrics. This was an aesthetic that I soon supported as she sang about the confusing feelings of being in love with someone. Other noteworthy songs from the album include, "Miss Americana and the Heartbreak Prince" "Cornelia Street" and "Lover." Soon, I regained my love for Swift and her music, and Lover became one of my frequently viewed albums on Spotify.  
I know there are lots of people who do not like Swift's music and brand, but I highly recommend people to check out Lover. Although not as iconic as Reputation, Lover is still worth the listen.