Media Review: A Love So Beautiful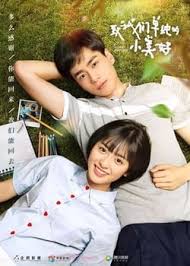 Hang on for a minute...we're trying to find some more stories you might like.
Two summers ago, I accidentally made the happy discovery of stumbling across a show on Netflix called A Love So Beautiful. Spanning over the course of 24 episodes, it is a heart-warming Chinese drama (with plenty of options for subtitles) that is focused on a group of five friends, and follows them from their adolescent school days all the way through to adulthood. The main female lead, Chen Xiaoxi, has had a crush on her neighbor and classmate Jiang Chen since they were children. She's tiny, bubbly and naive, and he towers over her with his icy logic and disinterestedness. Her persistent and increasingly ridiculous attempts to get him to notice her are adorable, and it somehow feels like watching a younger version of yourself. Their already tricky relationship is further complicated by their friend Wu Bosong, who has a crush on Chen Xiaoxi, and by Lu Yang and Lin Jingxiao – who are in a budding relationship of their own. The characters are dramatic, with real, messy, and relatable human emotions. A Love So Beautiful is also a fantastic example of how to play with and taunt the audience using subtlety, and which adds a powerful twist to the show. The moments where Jiang Chen looks at Chen Xiaoxi a little longer than necessary, where both were so close to calling each other, and the many out-of-context conversations each accidentally overhears are torturous and captivating. Romance is at the focal point of the show, but also takes plenty of time for the friendships and personal career goals of the characters, and even portrays the universally sympathetic trope of children being nagged by their parents to settle down. This show ended up being a gateway to other Chinese and Japanese dramas, some more 'campy' than others like Meteor Garden (Chinese), and a lot that even share similar archetypal plot lines of having opposite personalities attract like in Mischievous Kiss (Japanese). There are even historical dramas, like the 54 episode saga of The Princess Weiyoung. A Love So Beautiful is a show for the hopeless romantics, for the guilty-pleasure, binge-watchers, and for anyone that just wants to feel a little warmer.