Red Devil Recipe: Carmalized Bacon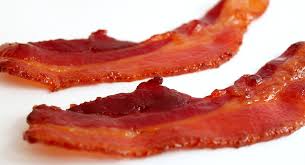 Maeve Thistle '23, Guest Columnist
September 19, 2019
Hang on for a minute...we're trying to find some more stories you might like.
Serves: 6 to 8 people
Time: 25 minutes
My mother created this bacon recipe and has served it at our monthly Family Breakfasts since, well, forever. The simplicity and deliciousness of this recipe exceeds almost anything ever created. 
Ingredients
1 ½ pounds Applewood smoked thick-cut bacon
½ cup dark brown coconut sugar
¼-½ teaspoon cayenne pepper 
Directions
1. Preheat oven to 400℉ and adjust one rack to the middle position with another just underneath. Line two baking trays with parchment paper. In a medium bowl, mix the sugar and cayenne pepper together until well combined. Cut the bacon slices crosswise and arrange on the trays in two rows. 
2. Sprinkle half of the sugar and pepper mixture generously on the tops of the bacon slices, brushing with your fingers or spoon, so as to lightly coat each slice. 
3. Place each sheet on its own rack and bake for 14 minutes. Flip the bacon and sprinkle the remaining sugar and pepper mixture on the other side of the bacon as evenly as possible. Do not brush the sugar across this side of the bacon, as it is very hot and this step is not necessary at this stage of the cooking process. Cook for 5-7 minutes more or until the sugar is melted and the bacon is soft and browned, but not burnt. Cook times will vary based on your oven. Keep watch as it is easy for the bacon to burn.
4. Remove the bacon from the oven and allow to cool for 5 minutes. Remove to a serving platter sprayed with Pam, making sure you do not stack any bacon. Not all the bacon will fit. Cut a piece of parchment paper to fit the platter and spray the underside and the topside with Pam. Place the parchment on top of the first layer of bacon and remove more bacon to the platter, arranging in two neat rows just as was done in step one. Repeat the parchment layering for remaining bacon.*
5. Clean Up!  Pour off the bacon fat from the tray and toss the parchment paper immediately.  Otherwise, it may stick, making your clean up harder. Let the rest of the grease cool as it is then easier to scrape off. Clean trays well after breakfast.
*Do not skip the parchment step, as the bacon will stick together like gorilla glue.