Fashion Spotlight: Muhammad Burhan '21
Muhammad Burhan '21, Guest Columnist 
October 3, 2019
Hang on for a minute...we're trying to find some more stories you might like.
A versatile teenager who studies mathematics, analyses data, and solves 21st century problems through the fusion of art and technology, Burhan is a fashion and lifestyle influencer on campus. As a person whose style and personality always stands out, Burhan explains: "While I was interning as a data analyst at ReturnLogic and managing Dickinson's newly launched Presidential Fellowship Program over the summer, I managed to design and make these three outfits for myself to highlight some important issues." In the following sections, he explains about his inspirations and details about the clothes he designed this summer.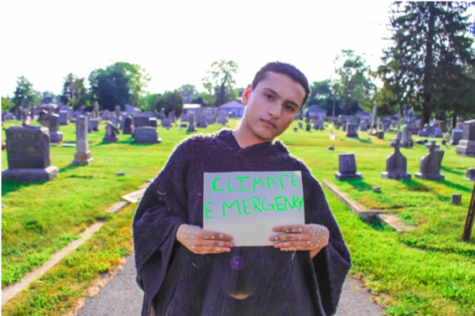 Outfit One: I made this outfit by using 100% upcycled material obtained from a thrift shop. This piece was inspired from freedom, gender neutrality, climate change, and of course Ecuadorian art. This outfit which I named "Fly Because You Can" symbolizes creativity, sustainability, and inclusivity. To me fashion is art, creativity, and representing the best version of yourself despite your skin color, body type or background. Fashion should be inclusive and made accessible to everyone. There will always be people to cut your wings but trust me you can fly.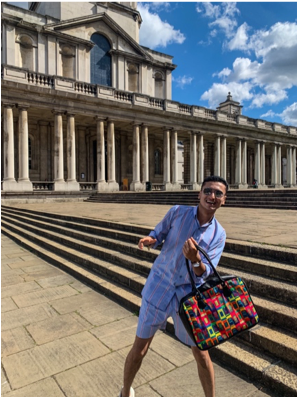 Outfit Two: The inspiration for my second design, which I named "Fragile Masculinity", comes from Etro Spring 2020 menswear collection. Etro did an amazing job breaking the stereotypical masculine image through its upcoming fashion line.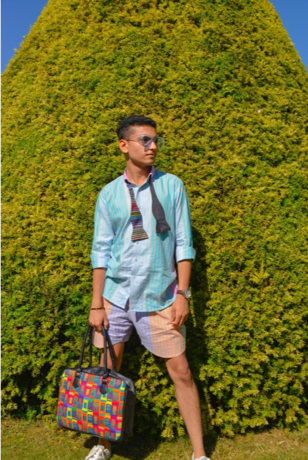 Outfit Three: My third outfit, named "Colors Of Life", highlights mental health and gender issues. In this outfit, I wanted to include all the colors (14 colors) I like and dislike to represent different moods we have and how our mental health changes from time to time. Sometimes you just need to break the monotony and add colors to your beautiful life. Masculinity so fragile that even wearing these colors can break it.