Caf Review: Vietnamese Flank Steak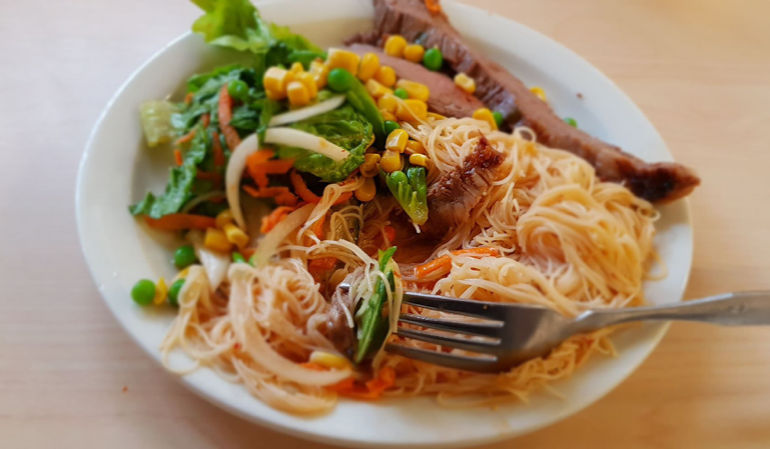 Ngan Do '22, Guest Comumnist
October 10, 2019
On Tuesday last week, I had a chance to try the "Vietnamese Flank Steak Salad" when I was having lunch at the caf.  It was actually quite an unexpected situation. At first, I did not plan to go to the caf to eat this dish for lunch since I did not pay attention to what would be served on the grill. It turned out that at the moment I passed the grill, the toasty aromatic smell of the flank steak drew me in, and I couldn't help but line up right away to get one of the dishes and took a bite. 
In terms of the appearance, the dish looked absolutely pretty and colorful with the balance of hot colors from the noodles and steak, and cold colors from the green salad. The decoration was so attractive that I could not resist having a taste. 
With regard to the flavor, I believe that the steak was cooked really well. The outside of the steak was crunchy and crusty while the inside was still soft and pink in the middle. And, the moment you put the steak into your mouth and begin to  chew it, you can feel that the texture is tender and juicy, which brings the feeling of satisfaction, making you want to eat more and more. On the side were the fairly well-seasoned thin noodles and fresh mixed green salad. When the steak, salad, and noodles all come together, the flavor of the dish turns out to be very balanced and tasty.
Overall, this is one of the dishes at the caf worth trying. You can also add more of your favorite flavor to it by getting some sauce at the dressing bar; for example, Sriracha for the spicy flavor. After settling down, let's try the dishes and see how it goes!