Three Totally Underrated Places to Study Around Campus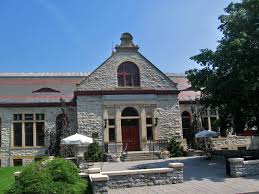 Lisa Clair '21, Life & Style Editor
October 10, 2019
We've all hit that point in the semester: classes are speeding up as midterms quickly are approaching, and our favorite table in the lib is getting less and less peaceful and more and more stressful and repetitive. For the past two years at Dickinson, I have been working to break out of the lib and find other enjoyable places to study around campus. Here are a few I find worth sharing with you readers. Enjoy!
1. The front patio of Stern Hall: This is a beautiful place to get work done when the sun is out and shining and you can't stand being cooped up inside anymore. It has the same feel that studying out on Britton Plaza has, but it's not half as distracting and it's a lot less social. There are really cute tables and chairs outside where you can get lots of work done. It's not as crowded as the back of the quarry, and you can people watch without being directly in the middle of the acedemic quad. Plus, there's a really pretty little garden nearby that is pretty to look at. 
2. The "Mezzanine" area in Bosler Hall: I have a ton of friends who really and generally don't like Bosler Hall, so you have to stick with me on this one. Apart from the classrooms in Bosler, the mezzanine area in Bosler is this beautiful, spatious area with soft lighting. Lining the top of the mezzanine is a beautiful balcony lined with bookshelves and more offices. The setting feels like a traditional library without the stressful vibe the lib tends to give off. I would recommend coming here to study on a cozy, chilly day. Bring a sweater. 
3. The Kisner-Woodward common room on the first floor: It's not typically a place I go to study in, as I am understanding of the fact that people live in KW and probably don't appreciate a ton of people coming into their space to study. But occasionally, I'll treat myslef to an afternoon or so to study here. The decor reminds me of the lib but with darker, stone accents, and the windows are FANTASTIC. There is so much natural light in this area. I would recommend studying in KW when you want a vibe that is very similar to the lib, but you need an escape from the lib's constant stress and pressure.