Caf Review: Choclate Éclair Ice Cream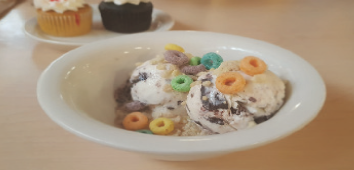 Tra Pham '22, Life & Style Columnist
November 7, 2019
Hang on for a minute...we're trying to find some more stories you might like.
It has become almost a ritual for me and my friends to have ice-cream whenever we dine together, and checking the ice-cream menu is always the most exciting part of my meals. When coming into the Caf for lunch this week, I was ecstatic that my personal favorite icy, creamy, bittersweet desert had finally made a comeback – the chocolate éclair ice-cream.
This dish is a perfect combination for those out there who don't enjoy eating plain vanilla or chocolate. It has a vanilla base and chocolate swirls running throughout, so that you get the best of both world in every scoop. As seen through its name, this is the icy version of one of the most well-known French desserts – the Chocolate éclair – which normally consists of light and airy Choux pastry filled with creamy vanilla custard and topped with smooth dark chocolate sauce. 
The ice-cream itself is very well flavoured, not too sweet with a deep vanilla scent permeating throughout. But what makes this dish so enjoyable to me are the chocolate swirls. I don't usually prefer ice-cream that has bits of solid chocolate like mint chocolate or chocolate chip ice cream. I find that with the cold temperature of the ice-cream, the chocolate has a really hard time melting in my mouth, and I end up having to chew on them and can't enjoy any of its flavor. In the Chocolate éclair ice-cream, however, the chocolate part is more of a chocolate sauce or ganache (a mixture of chocolate and cream). It never really sets rock solid but retains its fudgy, creamy texture. And the most amazing sensation is when the thin ribbon of chocolate melts as soon as it touches the tongue and mixes in with the sweet ice-cream. It's a bit like a surprise in every bite. 
You can do a little experimenting with this ice cream, maybe with some Rice Krispies cereal, which adds some pleasant crunchy texture. I also add some Fruit Loops to mine, which doesn't work out very well considering the fruity flavor is a little contradictory and it doesn't much besides extra sugar. Though I haven't tried it out myself, I imagine that some Graham cracker from the topping bar at dinner would be a really nice touch that gives the ice-cream a s'mores vibe. So why don't you try it out yourself?