Fashion Spotlight: Nadia Shahab Diaz '21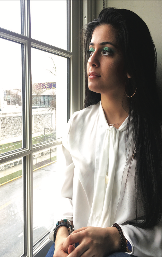 Lisa Clair '21, Life & Style Editor
November 7, 2019
Name: Nadia Shahab Diaz
Hometown: Princeton, NJ
Majors/Minors: INBM and International Studies double major with a French & Francophone Studies minor
What adjectives would you use to describe your style?
I think I'd prefer to look classy over trendy; I've always dressed older than my age group, preferring pieces that are a little more classic or professional. I mean, I wear something with a heel essentially everyday, I only started wearing jeans in the last year, and bought my first pair of sweatpants a few months ago — overall, I feel more comfortable in looking put-together than I do in typical comfort clothes.
Do you express yourself through style/use it to reflect your moods and feelings?
I've always been an advocate for putting time into your appearance; there's no requirement to do so, but I don't find there to be anything vain or wasteful in caring about how you look. If it's something that makes you feel good, you should do it; I personally feel a lot better walking through the day feeling confident about the way I look and feeling good in the clothes I'm wearing, because if everything else in the day goes wrong, at least something felt right. Besides, the clicking of heels on ground really puts a different feel to a walk, it makes you a little more identifiable coming into a room, and it comes with a powerful feeling for sure.
Why is style important to you? What is one thing you find to be unique about your style?
One thing that I find unique about my style is probably how I like to incorporate color and makeup. I'm not afraid to wear a really bold, colorful, complicated eyeshadow look (on days that I find the energy to put on makeup) and walking into an average class day with it. I like to find statement pieces, like a uniquely colorful sweater or very big bright neon hoops or boots with a special design on them, and put them together with the rest of the outfit being more subdued or complimentary so that there are particular pieces that draw the eye. I think that it's really fun to create something special and balanced. 
What stores do you prefer to shop at and why?
My favorite stores are White House Black Market and Zara, especially since both tend to carry more professional-like and unique pieces. I also love Nordstrom Rack, because who doesn't love a good department store where you can find fashionable items at extremely-discounted prices!
Do you have any fashion tips/advice for students looking a style that reflects yours?
It's important to have a good foundation of basic pieces and neutrals in your closet, multifunctional pants and shoes that you feel good in on their own and consider easy to wear with various things, and then build up with anything special that you might come across. I like to find shirts or sweaters in colors that I don't already have in my closet to wear with jeans I feel good in, or find really cool designs on accessories that could take a simple outfit to another level. I absolutely love looking for inspiration on Instagram, especially by people like Zendaya or Jameela Jamil, and seeing what outfits I can recreate from them or  find a new kind of style to try.