Straight from the Plate: Vegetable Chowder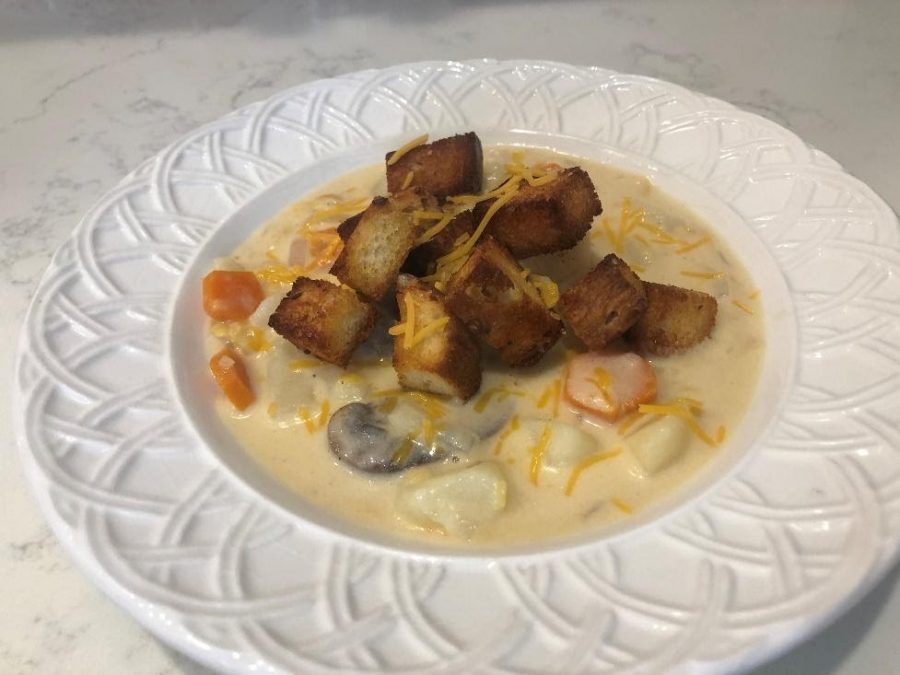 This hearty stew is filled with vegetables but also has a delicious, creamy texture. Its warmth is filling and perfect for a lazy, cold evening or for any weeknight dinner. This dish was garnished with some extra cheddar cheese and homemade paprika croutons.
Ingredients
2 cups peeled potatoes

2 cups reduced sodium chicken broth

1 cup chopped carrots

½ cup chopped onion

1 can (14oz) cream-style corn

1 can (12oz) fat-free evaporated milk

¾ cup cheddar cheese

½ cup shredded mushrooms

¼ cup tsp pepper
Directions
In a large saucepan, combine potatoes, broth, carrots, and onion; bring to a boil. Reduce heat; simmer uncovered for 10-15 minutes or until vegetables are tender.
Add corn, milk, cheese, mushrooms and pepper; cook and stir 4-6 minutes longer or until heated through. Sprinkle with bacon bits or any preferred topping.
This recipe serves 7.