Media Review: Peter McPoland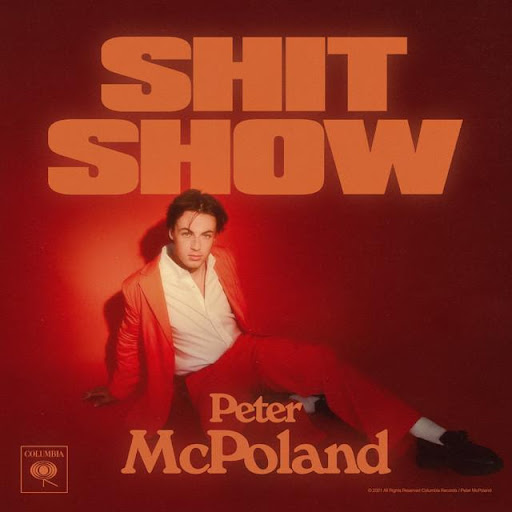 Peter McPoland released his newest single, "Sh*t Show," a couple of weeks ago. First, viewers are pulled in by the monochromatic color scheme of the cover image. Peter poses, illuminated by a spotlight, in the middle of the image wearing a red suit, which blends right into the background color. His central placement on the cover is symbolic of his music; his voice is the star. 
According to Wasserman Music, 20-year-old Peter got into writing music in his youth. His high school band won Battle of the Bands, enabling them to play at Warped Tour in Cleveland, Ohio in 2019. He's been recording and releasing his own songs since 2018. Currently, he has 1,151,356 monthly listeners on Spotify. In many of his songs, including "Lady Bird" in 2018, Peter has stuck with a stripped-down sound of his voice coupled with guitar. This simplified construction of the music allows his voice to be the focus. The quality of Peter's voice itself is alluring with its weathered, somewhat strained sound. 
All of these qualities apply to this month's release, "Sh*t Show." Peter starts singing right away, bringing the listener into the angsty song. He sings about wanting to be more present in his life, and admitting "Honestly, it's a sh*t show, my God" in the chorus. It's the catchy kind of song that gets stuck in your head all day. In addition to the lyricism and tone, "Sh*t Show" has musical merits as well. Unlike most popular music, Peter utilizes dynamics to entertain the listener. In the middle and at the end of the song, he sings quieter, more smoothly, then builds the volume back up. Genre-wise, "Sh*t Show" and the rest of Peter's music would be considered indie. Particularly, his newest song is reminiscent of a gritty-voiced version of Conan Gray.
In terms of Peter's other songs, the most popular are "Romeo & Juliet "and "(Here's to the) Prom Queen", which were released last year. The former is more stylized than most of his tracks, and has a couple of voice memos mixed in, which is a unique feature. "(Here's to the) Prom Queen" recounts a story, similarly to a typical country music song. Both songs are based around an acoustic guitar beat, and, of course, feature Peter's voice. Overall, fans of indie music will enjoy Peter McPoland's take on the genre and should look forward to a potential full album soon.