The Dickinson Free xChange is the Thrift Store You Never Knew You Needed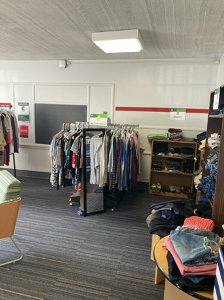 The Free xChange offers students the opportunity to shop for donated clothing items 24 hours a day. 
The Free xChange provides clothing for students who may be unable to get their own for a variety of reasons or are just interested in expanding their wardrobe in a sustainable and inexpensive way. Each week, a few volunteers come to fold, organize, clean, and hang up donations.
Anna Kurth '23, Waste Minimization Intern at the Dickinson Center for Sustainability Education (CSE) and overseer of the Free xChange, explained that it was originally founded to "help students who are transitioning. They could try on different clothes and different identities kind of, and see what worked for them."
Since its inception in 2016 as a small space in Landis House, the Free xChange has become its own fully functioning room in Allison Hall open to all students. The Free xChange has recently gotten an upgrade, adding in a Career Corner where students can get professional clothing for interviews or other events. 
Tara Fischer, dean and director of academic advising, "was able to get a bunch of donations from the board of trustees," said Kurth. The Free xChange now has a rack of suits and other professional attire which students can either keep or return after their event.
The Free xChange "is a fully inclusive and accessible opportunity for students to pick up new clothes without the stress of monetary payment," said Amelia Scarborough-Scharf '25, who has visited the Free xChange on many occasions.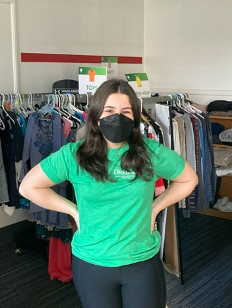 Anna Kurth '23 in the Free xChange. Courtesy of Lily Hollenberg '25. 
"Anyone can come here; this is a place where anyone can feel comfortable," said Kurth.
Dickinson highly values sustainability, seen through its accomplishment of becoming carbon neutral by 2020. The Free xChange "is emblematic of Dickinson's commitment to sustainability and [is] overall a gem of campus," said Scarborough-Scharf. 
The Free xChange is available in Allison Hall Room 2 with Dickinson card access 24 hours of the day, and is always open to donations. Please contact [email protected] with any questions.