Media Review: Taylor Hawkins Tribute Concert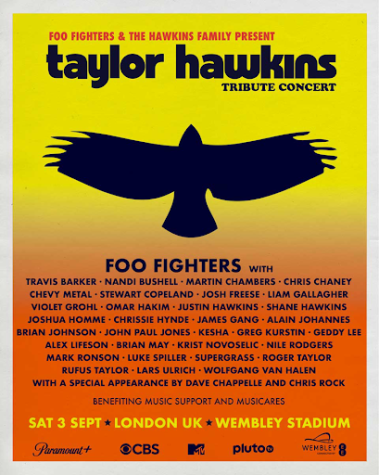 After Taylor Hawkins' tragic passing in March, his former Foo Fighters bandmates organized a who's who of the biggest names in rock music to pay tribute to their legendary drummer. The six hour concert, which was live-streamed on Sept. 3 from Wembley Stadium in London, is now available to stream on Paramount Plus.
Following an emotional introduction by the Foo Fighters, the concert opened with them performing covers of Oasis' "Rock N' Roll Star" and "Live Forever" with the band's lead singer, Liam Gallagher. Following this, friends of Hawkins performed covers of some of his favorite songs. One performance that I particularly enjoyed was Kesha's rendition of "Children of the Revolution" by T.Rex, in which the vocals were very powerful, which came as a surprise to me given that I do not listen to her much.
This concert brought together two notable reunions, Them Crooked Vultures and James Gang. After a video tribute from Elton John, Them Crooked Vultures, made up of Dave Grohl, Queens of the Stone Age singer Josh Homme, and Led Zeppelin bassist John Paul Jones, played three songs together for the first time in 12 years. The other notable reunion, that of James Gang, is especially notable for being one of Hawkins' favorite bands, which was made by Joe Walsh before he joined the Eagles. This was James Gang's first concert together in 16 years.
The concert then started to bring out the last big names in its lineup. These two bands had been inducted into the Rock and Roll Hall of Fame by Dave Grohl and Taylor Hawkins, two founding members of the Foo Fighters. The first was Rush, joined by Grohl filling in for their own late drummer Neil Peart, who did an amazing performance which culminated in Hawkins' favorite Rush song, "YYZ". This was followed by Queen, whose performance was one of the most emotional moments for me. Queen guitarist Brian May closed playing "Love of My Life" solo on his acoustic guitar, a song that is very emotional to begin with, while also pointing out how they said goodbye to their lead singer Freddie Mercury in much of the same fashion in the same stadium.
Finally, the most emotional portion of the concert personally was when the Foo Fighters themselves paid a tribute to their fallen brother. Beginning the show as they usually do, Grohl opened with vocals on "Times Like These" before the rest of the band joined in. Given the emotion of this being their first concert since Hawkins' passing, the emotions were high with Grohl having to stop at points of the song to compose himself, which elicited cheers of support from the crowd. One song after this that was especially powerful to me was "These Days," with its line "One of these days your heart will stop and play its final beat" being extremely impactful given the circumstances of the show.
The final surprises of the show came when the previously unannounced Paul McCartney came out to play the Beatles' "Oh! Darling" and "Helter Skelter." Then, the concert was closed with three final songs, Hawkins' favorite Foo Fighters' song "Aurora," "My Hero" where his son Shane Hawkins played on drums with just as much energy as his father, and Grohl playing "Everlong" solo on acoustic guitar, where the noise of the capacity crowd singing was loud enough that it rivaled the actual performance.
This concert was a beautiful tribute to Taylor Hawkins, bringing together his family, friends, and heroes to pay respects to one of rock music's greatest drummers. Another tribute show is planned for later in September in Los Angeles, which includes some of the big names from this show, as well as others such as Def Leppard, Joan Jett, and Miley Cyrus.