Alumni Spotlight – "Icons & Instincts"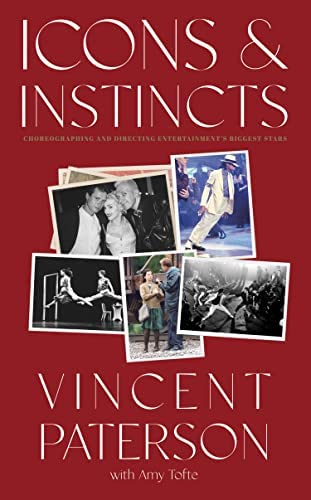 Vincent Paterson, an alumni from the class of 1972, released his autobiography, "Icons and Instincts: Choreographing and Directing Entertainment's Biggest Stars," in September. Paterson has worked as a choreographer and director, where he has worked with performers such as Madonna, Michael Jackson and more.
Paterson originally came to Dickinson wanting to become a lawyer. However, after finding the Mermaid Players and David Brubaker, the chair of the theater department, he began to become more involved with acting. By the time he had to declare a major, Brubaker urged Paterson to apply for New York University, because Dickinson had no theater major at the time, and he was accepted to NYU with no financial aid. In response to the fact he was considering transferring, Dickinson gave Paterson a large scholarship to continue his studies. He was also allowed to assist in creating the Bachelor of Arts in Theater Arts and Dramatic Literature, the first theater degree at the school which he received the following year. 
After finding work for a few years after Dickinson and becoming more involved with dance, Paterson's first big gig dancing was in the 1983 music video for Michael Jackson's "Beat It," where he played one of the two lead gang members. He also appeared in the "Thriller" music video and choreographed several of Jackson's projects, including "Smooth Criminal" and his 1993 Super Bowl performance. 
He also worked with Madonna, starting with her 1989 Pepsi commercial with her song "Like a Prayer." He then choreographed her "Blond Ambition" World Tour, where he organized the two-hour, 17 song show in just 23 days. He also worked with her on the 1996 movie "Evita," where Madonna plays the titular role of Argentine First Lady Eva Perón. 
Paterson has worked with several other big names, whether it be acting in their music videos, choreographing their work or doing commercials with big names in entertainment. Just some of the names he mentioned were Ray Charles, Shakira, Billy Joel, Paul McCartney and Van Halen. He also worked on films like "Hook" with Steven Spielberg, and "Dancer in the Dark," starring Björk. This was one part of his book that I loved. It felt like the book was a who's who of all my favorite artists, and Paterson was able to work with them all. 
As I read the book, it was really comforting to see that Paterson was not certain about where he wanted to go with his work but managed to find a way to do what he saw as his true passion. I felt like it was validation to be able to take a risk, even if it may take a while to pay off.  
It was also fascinating to see how he had a close relationship with some of the biggest stars in the world, and some more personally like Michael Jackson. So many of these names I only know from their music and the big stories everyone has heard, so it was amazing to hear more of them from a personal viewpoint. 
Recently, Paterson has been pushing for improved worker's rights for choreographers, as they do not have many of the protections or benefits that other people, such as actors and dancers, have in the film industry. 
Paterson's book, "Icons and Instincts," was an amazing read, especially for anyone who enjoys dance or the music of the 1980s and 1990s, as there is almost certainly something you will like mentioned in there.