Students Wait to Start Grad School
Enrica Nicoli Aldini, Staff Writer
January 21, 2013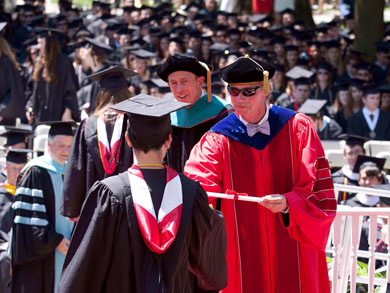 Taking time off is the most appealing route for the majority of Dickinson graduates after four years of hard work in college classrooms, according to the Office of Institutional Research. In the long run, however, many of them will go back to school to pursue a graduate degree.
Surveys published on the school's website show that one year after graduation, only 21 percent of the class of 2010 was enrolled in graduate school, while 57 percent said they were not planning on enrolling in a degree program. Five years after graduation, however, the figures reverse. 54 percent of the class of 2006 ended up enrolling in graduate school, compared to 32 percent who didn't.
"In the past few years we've started to hear this language from graduating seniors: I want to take some time off to get some work experience," said Associate Director of the Career Center Debi Swarner. "Students spend such a long time in school and they want some break from all the hard work of college."
Swarner is responsible for career and graduate school counseling, dealing mostly with pre-health students. She explained that more and more schools, especially the most prestigious ones, require their applicants to have worked and done some research as a prerequisite to admission.
"This is particularly true for med students. Many alumni take some time off school to do the so-called 'hands-on patient care experience' to be more prepared before going to med school," said Swarner. "This is why many people who initially wanted to apply eventually changed their mind. They may know that they want to go, but they want to wait."
Swarner said that some students in the class of 2013 are already working on their applications, although it seems that the majority of them will first take some time off to seek work experience.
She explained that the trend of taking some time off is a very recent one and would explain why the percentage of Dickinson alumni enrolled in graduate programs one year after graduation is fairly low.
"Among prospective med school applicants, two years ago 16 people started to tell me that they were taking time off, then 18 the next year, then it moved higher," she said.
It is important to keep in mind, she added, that the statistics do not reflect the experience of all Dickinson alumni in the past five years.
"Once an alum has graduated, it is up to him or her to respond to our surveys and report to us about what they're doing," said Swarner.
According to Kam Millar '11, taking time off is important not only to gather work and research experience, but also to clear one's head as to whether grad school is the appropriate choice to make.
"I took a year off after college to make sure law school was what I really wanted to do," said Millar, who is now enrolled in Suffolk University Law School in Boston. "Even though Dickinson helped me to really want to go to law school, it is still a big decision that should not be made merely based on classes."
Millar, a law and policy major, said that his college professors were a very helpful resource when he was preparing for law school.
"Dickinson definitely transformed [my high school dream] into a goal," he said. "[Its] way of teaching classes has been extraordinarily helpful in law school. Professors teach you to look at everything critically with multiple points of view and are excellent at teaching their students how to write in an organized, clear and analytical fashion which is also helpful in graduate school, especially law school."
According to Swarner, Dickinson professors strive to impress on students the importance of graduate school for a professional career.
"It's also our role as a Career Center," she said. "It depends on the profession whether grad school is absolutely essential, but for the most part it is very important to get a master's degree and we try to help students understand that."
Millar said that graduate school is absolutely vital to his career in law and that many other career paths such as medicine, teaching, social work and public policy are enriched by graduate school, or only possible by going to graduate school.
"While not everyone goes to grad school, I think [it] is important for many careers that enact change in our country and throughout the world," he said. "It is not for everyone but it does enhance our education so that we can go into our professional lives equipped with the tools to make a difference."
Some current seniors look to Millar's and other alumni's experiences when considering applying for graduate school.
"Seeing many of my friends who have graduated looking into post-grad really solidified the idea for me," said Hector Meza '13. "I had intended on doing post-graduate studies since I first came in, but talking to people who are actually do it really put perspective on it."
Meza is currently studying to take the Law School Admission Test (LSAT) and working on his application for law school.
"Post-grad seems to be the topic to talk about once you hit senior year," he said. "I definitely think this is something underclassman (at the least juniors) should start thinking about. Times moves way too fast to hold off on something like this till the last minute."