Interpreter Comes to Dickinson
Enrica Nicoli Aldini, Staff Writer
February 21, 2013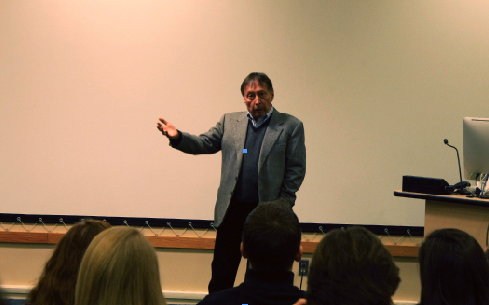 On Thursday, Feb. 15 diplomatic interpreter Steven Seymour gave a talk called "Joys and Sorrows of a Diplomatic Interpreter" in Weiss 235.
According to Seymour, diplomatic interpreting is an exciting job because it gives you the ability to work with people who decide world policies and contribute to making world peace.
Seymour's talk, presented in English, was sponsored by the Russian Department because Seymour's main working language is Russian. According to Assistant Professor of Russian Alyssa DeBlasio, Seymour has had a long career in diplomatic translating and interpreting for the U.S. Ambassadors to Russia.
"He participated in some significant events in the history of U.S.-Soviet/Russian relations," said DeBlasio.
Seymour said his area of expertise is nuclear disarmament.
"Among the joys of my experience with interpreting," he said, "there's definitely the feeling of having been at the forefront to save the world from nuclear weapons."
For example, Seymour described his work during the second chapter of the Strategic Arms Limitation Talks (SALT II) in 1978.
"It was also a sorrow, though, due to the tremendous workload we had," reported Seymour. "We worked on a 24/7 basis."
Seymour also interpreted for numerous U.S. presidents.
"I accompanied George Bush, Sr. in Moscow during his meeting with [former Russian president] Boris Yeltsin," said Seymour. "I had a great time with him."
Seymour also interpreted English into Russian for Richard Nixon as well as Bill and Hillary Clinton.
Since Seymour primarily works in Russian, many Dickinson Russian Department students attended the event.
"I [went] because being a Russian major, my career will most likely involve this language," said Caroline Elkin '15. "So I wanted to learn more about translation and interpreting."
Elkin liked the anecdotes Seymour told about his career and also learned a lot about interpreting.
Some students who are not taking Russian also attended the event. Spanish Teaching Assistant Paula Ocaña Lopez went because she majored in translation and interpreting during her undergraduate career in Spain.
"I liked that Seymour didn't brag about his job like many other interpreters do and he was very humble," she said. "In the end, according to what he said, the joys of being an interpreter outscore the sorrows."
According to DeBlasio, Seymour came to campus with his wife, Russian poet Vera Pavlova, who read a selection of her poems on Thursday, Feb. 14. The two also met with students for a poetry translation workshop.
"Bringing them to campus [was] a great way for students to work on their Russian while also engaging with the contemporary poetry scene," said DeBlasio.