Court-Storming Puts Devils in Spotlight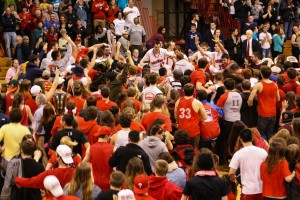 The Dickinson Men's Basketball team's run to the Centennial Conference title and into the second round of the NCAA Tournament has been historic for the school for a number of reasons–add airtime on ESPN to that list.
Following the Devils' 80-65 victory over Marietta College in the first round of the NCAA Tournament on Saturday, March 2, the majority of the students that had packed the Kline Center to capacity rushed onto the court in celebration. Storming the court is not uncommon in college basketball, but the tradition has been under national scrutiny recently, after Duke Head Coach Mike Krzyzewski publicly complained about the dangers it can pose to the losing team's players still on the court. Perhaps aware of these dangers, Dickinson's students, at the direction of DPS, waited until Marietta's players had cleared out before rushing to celebrate with the team. Red Devils Sports
Network captured the event on video, leading to national media coverage.
Matt Norlander, a senior blogger for CBSSports.com wrote an article on March 3 commending Dickinson students for showing the "perfect, proper way to storm the court". Norlander remarked that, "…the Red Devils fans of Dickinson did everything right. So let's give them some credit." The video clip of the court-storming was featured the next day on ESPN's nightly show "Pardon the Interruption", as hosts Michael Wilbon and Tony Kornheiser commented on the polite and organized celebration from Dickinson, "a good, smart, small liberal arts school." Dickinson was brought into the debate about court storming on Tuesday, as well, when they were featured on a similar ESPN show, "Around the Horn."
The court-storming and subsequent media coverage is just a piece of the energy that the men's basketball team's run has created on campus. Brian Schwartz '13, Dickinson's Director of Sports Broadcasting, remarked, "I've been calling the men's basketball games for three years and, by far, this game will be the most memorable. The thought never crossed my mind that the portion of the broadcast where the students stormed the court would make CBSsports.com and ESPN. It's a totally surreal moment." Point guard Adam Honig '14, who scored 32 points in the contest commented after the game that, "It has been honestly incredible. We couldn't have done this without these amazing fans." Honig also chimed in about the court-storming, commenting, "I thought I was going to die… but it was awesome."
The Red Devils will travel to Wooster College for the second round on Saturday, Mar. 9. The game won't be televised on ESPN, CBS Sports or any of the other national news outlets that have covered Dickinson in recent days, but that doesn't change the fact that March Madness has come to Carlisle.