Carlisle Clothing Store Opens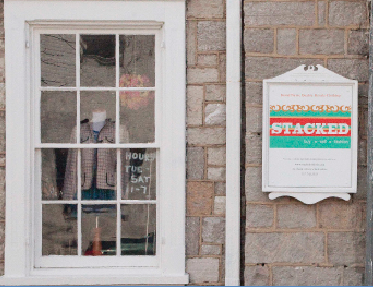 Not only was Wednesday, March 20 the first day of spring, but it was also the grand opening of Stacked, a new clothing store located in downtown Carlisle. Owner Jennifer Lee opened on this day intentionally.
According to its website, Stacked is a resale clothing store, offering a variety of brand name and vintage clothing, shoes and accessories for men and women at an affordable price. In addition to making purchases, a customer can sell their gently used clothing, shoes and other items in exchange for cash or an item from the store.
Lee has a background in both graphic design and fashion.
"I had a thing for high-end fashion for a long time, but then, I got very disillusioned with all of that….because people were paying $5,000 for a bag and they were putting it on 5 credit cards and it was just sad…so then I really got into thrift…resale and consignment," said Lee.
She was also able to use her design experience in the creation of the store.
"I really wanted it to have kind of a DIY feel…so I built all the racks and all the decorative pieces myself," she explained.
Inspiration for the store came from Lee's own closet.
"It all sprung from the idea that I had way too big of a wardrobe…so I kept giving all these cute things that I couldn't wear to other people," she said.
According to Lee, the opening was a success and she received a positive response. Since then, business has been a "slow and steady trickle." Lee hopes that the store continues to be successful. She also said that she hopes to use her store space to hold community events.
"I want to hold little events and…dress girls up…take pictures…blog about it and talk about style," she said.
Though the store hasn't been open for long, students have already been to Stacked, according to Lee.
"The owner was very welcoming and approachable, and the clothing was priced very affordably," said Elizabeth Lanigan '16, a recent patron of the store.
Stacked is located at 36 S. Pitt Street, Suite 101. It is open Tuesday through Saturday from 11 a.m. to 7 p.m. For more information, call 717-743-3553, email [email protected] or visit www.stackedcarlisle.com.