Sorority Seeks Best of Dickinson
Enrica Nicoli Aldini, Staff Writer
April 11, 2013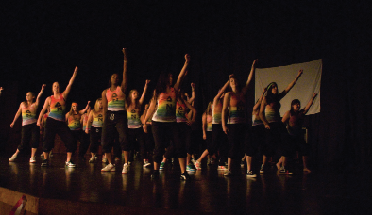 After two years off the stage, Delta Nu's popular event Mr. Dickinson is making a comeback with a different name and a brand-new gender-inclusive format.
The newly named "The Best of Dickinson" is a philanthropy event involving several clubs, sport teams and Greek organizations on campus to determine a winner in the categories of First Impression, Talent and Formal Wear, according to Delta Nu member Gillian Ferko '15.
To help find participants for the event, Ferko emailed invitations to all club presidents and sports teams to participate in the event, which will take place on Tuesday, April 23 at 7:30 p.m. in the Anita Tuvin Schlechter Auditorium.
She said that ideally, Delta Nu would like to have one representative from each organization so that "the best of Dickinson" will be there.
According to Delta Nu's President Maria-Paz Pitarque '14 and Vice-President Carissa Kurtz '14, The Best of Dickinson will be a gender-inclusive event unlike its predecessor Mr. Dickinson.
"[Mr. Dickinson] was changed mainly because we wanted to host a community-wide philanthropy event," said Kurtz. "That in itself is the main difference since we are making a better effort to reach out to different organizations on campus."
Event organizers said the proceeds of the event ($4 regular admission, free admission for contestants) will go to the homeless shelter Safe Harbour.
"Our goal throughout the years, even when Mr. Dickinson was held, was to host a successful event to contribute to Safe Harbour," said Pitarque. "For example, we are working with different groups, such as the office of LGBTQ services, in order to assure a gender-inclusive event. Overall, we expect a successful philanthropic event that brings the campus together."
Ferko said the winners in each category, which are determined by five judges from the sorority, will receive a $25 gift card for Café Bruges and a crown naming him or her The Best of Dickinson.
In her email, Ferko said that Delta Nu hopes to have the performing groups on campus act in "commercials" taking place in between each category.
"Also, each participant will be escorted on stage by one of our lovely members of the senior class in Delta Nu," she said.
According to Pitarque and Kurtz, Delta Nu began hosting Mr. Dickinson in the early 90's and the last one took place in the spring of 2011.
"Delta Nu decided it was best to stop hosting it since the school wanted to see a philanthropic event that was open to all genders and all group organizations on campus," they said.
Campus clubs and organizations were expected to express their interest in participating in The Best of Dickinson by Friday, April 5, said Ferko in her email.
Information on which ones will participate in the event was not available at press time.