New Grey Hats Join Scroll and Key
Enrica Nicoli Aldini, Staff Writer
May 2, 2013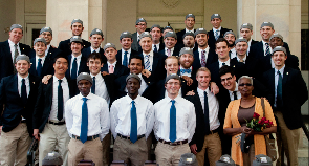 On a sunny spring day, seven members of the class of 2014 were initiated, or 'tapped in,' by the Order of Scroll and Key, also known as the Grey Hats, on Saturday, April 27 on the steps of Bosler Hall.
The rising senior,s who will wear their namesake grey hats next year, are Reginald Glosson, Peter Shapiro, Michael Meyers, James Cousins, Leodor Altidor, Bairy Diakite and Evan Dubchansky. Because the other four men are currently abroad, only Cousins, Diakite and Altidor took part in the tapping ceremony,
The new members were chosen by the Order's class of 2013.
"These seven men were chosen because they truly understand that it is more important to be, rather than to seem," stated Grey Hat Nathaniel Armistead '13.
Grey Hat Andrew Chesley '13 described the new members as "true and selfless leaders" who display "an impeccable character and infinite potential." He added that they "distinctively embody the spirit of the true Dickinsonian."
Cousins said he is proud to be a member of the Order and excited for the four members who were not present to return to Dickinson after studying abroad.
"We're all passionate about something and being around such passion is always inspirational," said Cousins. "It's a little hard to wrap my head around the concept that this is something that sought me out, not the other way around."
The Order of the Scroll and Key was established in 2001 by seven members of the class of 2002, according to its webpage.
"Membership in the Order tends to have a significantly different impact on each of the members," said Armistead. "For me, membership has made me become more aware of my actions."
Armistead thinks they have chosen an excellent group for next year.
"I hope that they will challenge each other, gain new perspectives and serve Dickinson and the Carlisle community," he said.
During the ceremony, the fifth honorary grey hat was also given to Brian Patchcoski, director of the Office of LGBTQ Services, for his contributions to the Dickinson community.