Fast Eddies Bar Kicks the Keg
Alexis Gulino '17, Contributing Writer
September 16, 2013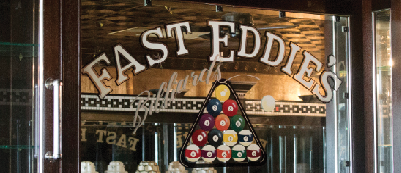 Students seeking refuge from crowded Saturday night parties in student houses have one less option in downtown Carlisle this year.
A year ago, if you were looking for a place to hang out on a Saturday night other than the dorms, frat houses, and the apartments, was the place to be.
Following a history of lawsuits and failed liquor licenses, it comes as no surprise to most locals that Fast Eddie's Billiard Parlor and Saloon on 37 West High Street closed for business over the summer.
Notorious for late night bar brawls, Fast Eddie's had become a staple of both student and local life. A local hangout where people could go to shoot some pool and smoke freely inside, Fast Eddie's provided a relaxing atmosphere and an off-campus haven.
In July, though, officials from the Carlisle Borough Council spoke of selling the bar, and it closed for good in August.
As one of only two bars in town, Dickinson students will definitely miss the bar and everything that it had to offer.
Upon hearing of the news that the bar was shutting down, Brendan O'Brien '10 said, "I entered into a deep depression."
Renovations for a new bar are not in the works, but the property will not be vacant for long.In an article published on July 11, 2013, titled Salon May Replace Fast Eddie's Bar, Sentinel Reporter Tammie Gitt wrote on how Steve Capone and Chris Rice are in the process of refurbishing the location and making it into Warmsprings Salon and Spa, to be opened this fall.
Warmsprings, which already has one location in Chambersburg, PA, is a salon and day spa that opened in 2003 and is owned by Eric Shands.
Since opening, the company has expanded immensely and even been named one of the "Top 200 salons in the country" by Salon Today Magazine three times. The opening of the spa this fall promises the hiring of at least 20 employees and an influx of new customers within the first year.
Historically, the town of Carlisle, whose motto is "Excellence in Community Service," is known for its amalgamation of both antiquated and modern stores and restaurants.
The closing of Fast Eddie's is just one of the many changes that has been taking place in downtown Carlisle recently. Recently, though, many businesses have switched locations, while new businesses have begun to sprout up to add to the already eclectic selection of stores.
The recently opened Subway is among these new hotspots, as well as new locations of restaurants such as Helena's Chocolate Café & Creperie.
Each of these changes speaks to the optimism of those who live in the town of Carlisle and want it to thrive. By introducing new businesses and traditions, locals hope to boost business and popularity in the locale that is Carlisle.