Where Dickinson Is Heading
Campus Presidents Answers Questions During Senior Club Event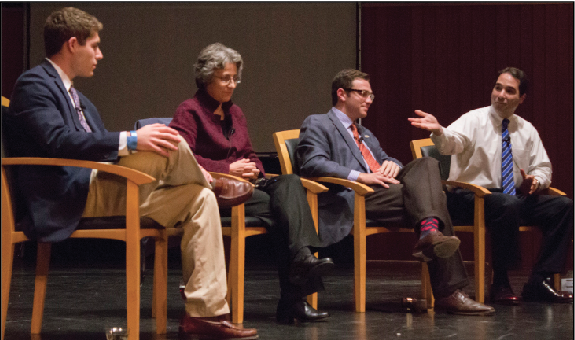 Hang on for a minute...we're trying to find some more stories you might like.
Clutching bottles of beer and platters heavy with barbeque, seniors filed into Anita Tuvin Schlechter Auditorium and took their seats. Announcers busily arranged seats on the stage and checked microphones.
The event, Pints with Presidents, was part of the Senior Club event series. Held on Nov. 5, the senior-only event advertised itself as an opportunity to openly ask questions to the presidents of Student Senate and the college.
Though Student Senate President William Nelligan '14 and Senior Class President Mike Meyers '14 were present to take questions, most of the student's focus was directed at College President Nancy Roseman.
"This event is part of an ongoing process to get students acquainted with Roseman and get Roseman acquainted with students," explained Douglas Edlin, Associate Professor of Political Science, who moderated the event.
During the event, students grilled Roseman for an hour and a half with questions ranging from the validity of rumors to her plans to increase socialization amongst the classes.
Particular attention was also paid during the event to rumors about Roseman's stances on certain high profile issues. Students stood up to ask the new college president her stance on Greek life, whether she would outsource Dining Services and if she had plans to cut back on study abroad programs.
Roseman, with help from Meyers and Nelligan, addressed each question calmly and plainly. She explained her plans to keep the dining hall staff under control of Dining Services, her dedication to continue supporting study abroad and her thoughts on Greek life.
"I don't have an interest in Greek Life," said Roseman during the event, when asked if she had an interest to kick fraternities and sororities off campus. "I don't find it anymore or any less interesting than other aspects of the student community."
The event concluded with a surprise for one of the panel guests. Event organizers took the stage to present Roseman, whose birthday was coming up, with a cupcake. Seniors and faculty in attendance joined together to sing happy birthday while the president held her miniature cake.
The event was well received by both organizers and the audience.
"It felt honest and genuine," said event attendant Christopher Heden '14. "Roseman admitted when she didn't know the answer to a question. There was no political dodging or double-speak."
"I was really happy to see that so many people, especially faculty, attended," said Vice President for Senior Club Nicole Russo '14. "The senior class was also very good at asking questions."
The next senior-focused event is Thanks for Giving, a donation drive that will be held on Thursday, Nov. 21.